Hello,


Natural Ways to Lose Weight Ebook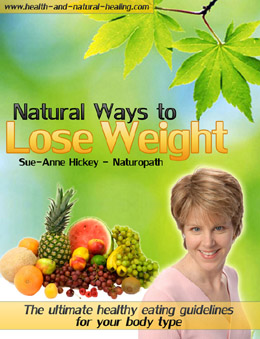 As promised,
my ebook is finally complete
and ready for download!


You can access it on my website here, Natural Ways to Lose Weight


I am so excited to be able to share these unique healthy eating plans with you!


There are 4 different body types and 4 separate plans.



By following your plan you will learn how to nourish your body's natural needs, eating lighter meals when your metabolism is slowest and larger meals when you can easily burn off the calories.
I look forward to hearing about the amazing results you will achieve!
Not only for weight loss
I keep on receiving emails from my clients telling me about how much weight they have lost and how much better they feel. However, the book is for anyone who wants to increase energy and obtain optimal health.

This is what I used to completely transform my own health. I used to be much weaker, had up and down energy all day with my energy crashing in the afternoon. I was hypoglycemic, constantly craving sweets, my body was overly acidic and I had eczema on my hands for over 20 years.

All that changed when I started following my plan for my body type.

The results were amazing! I healed myself completely and gained strength and energy like never before.

As I share this individualized healthy eating plan with my clients, I watch as they too undergo complete transformations of their own. Those that have come to see me for other health issues have gained energy and lost weight, even if these outcomes weren't part of their goal. They've increased their strength and healed their ailments.

It is so rewarding to see my clients achieve their goals and transform their lives. I am as excited as they are.
What to Expect
Lose fat where you most need to!
Eliminate cravings!
Feel satisfied, never hungry
Gain energy
Feel more balanced
Have fewer mood swings
Heal your ailments

Plus
Learn how to do a detox for weight loss for your body type.
Read the testimonials, find out more about the book
and download it here

It even comes with a money back guarantee.
Be sure to send me Your success story!


To your natural health!
Sue-Anne




If you like this e-zine, feel free to forward it to a friend.
If a friend did forward this to you and if you like what you read, please subscribe by visiting... www.bodytypology.com



www.bodytypology.com