Hello,


Healthy Skin and
A Contest
What are the secrets of healthy skin?
As Plato said, "The part can never be well unless the whole is well."
The body has 5 ports of elimination:
The skin
The liver
The kidneys
The colon and
The lungs
When one or more ports of elimination are blocked, ie you are constipated or your liver is congested, the body finds other means to eliminate toxins, such as the skin, and skin problems result. Of course diet is key. Someone eating a wholesome diet, drinking plenty of pure water and following a healthy lifestyle, usually has a glowing, rosy complexion.

When I began taking my classes to be a Naturopath and learning how to eat right for my body type, I went from being as white as a ghost to having nice, rosy cheeks.

Using natural skin care products is essential for me. Just as I do everything I can to avoid ingesting chemicals and pesticides on the food I eat, I do not want to be spreading toxic chemicals over my skin.
A Contest!
I'm excited to announce a contest in which the fabulous company
Nature, Balance, Wellness, nbw will be giving away 2 amazing products. They kindly offered to have me try out two of their products and in turn they will offer these products free to the winner of my contest.

I chose the Marigold Magic Body Butter and the Love me Lavender Body Lotion.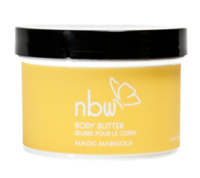 Marigold Magic Body Butter is a heavenly rich cream that's perfect for dry elbows, cracked heels, dry hands and cuticles. It even helps eczema. It has a lovely fresh orangy fragrance, heavenly! After using it for a few days I noticed that those dry areas on my body were much smoother.
I just love this product and the fact that nbw uses all natural and mostly organic ingredients.


I've been using a lavender body lotion by another company so I was able to do a comparison test and nbw, Love me Lavender Body Lotion won hands down! The quality is much better. It spread onto the skin more easily. It completely absorbed into my skin more quickly. But the best part about the lotion is the beautiful lavender scent, so much nicer than the other brand.

I'll definitely be ordering more products from this Canadian company.
You can win one of these products by sending me a testimonial
If I have inspired you in any way, if you have made changes to your diet, have lost weight from my ebook, healed what ails you from a consultation. Or if you simply learned new things from my website, newsletters, facebook posts or tweets, I would Love to hear from you!

Send me your success story or testimonial, preferably with a picture of yourself if possible. On Saturday, August 11th, I'll announce the two winners and Nature, Balance, Wellness will send you one of the lotions mentioned above.

Good luck!
New pages on my site
I've added quite a few pages about the different body types I talk about in my e book Get a sneak peak of parts of my ebook, by reading the pages about each of the body types.

Here are a few of the other new pages I added to my site in July. Check out the ones that interest you.

Benefits of whole grains

All about quinoa

Fast heart burn relief

Stomach gas relief

Nutritional Supplements Information

Facts about vitamins and what causes vitamin deficiencies

The best vitamin E

Omega 3 vs Omega 6

Effects of Fish Oil and Omega 3 deficiency symptoms

Omega 3 rich foods

Best fish oil supplement



To your natural health!
Sue-Anne



If you like this e-zine, feel free to forward it to a friend.

If a friend did forward this to you and if you like what you read, please subscribe by visiting... www.bodytypology.com



www.bodytypology.com