Quinoa Nutrition - 
How to Cook Quinoa
Quinoa nutrition, first of all, quinoa calories: Quinoa has about 222 calories per cup. Quinoa carbohydrates: It contains 39 grams of carbohydrates per cup.
But what sets this grain apart is the fact that quinoa is the grain with the highest amount of protein of any grain. Quinoa contains all essential amino acids which makes it a complete protein. Most other grains are missing amino acids.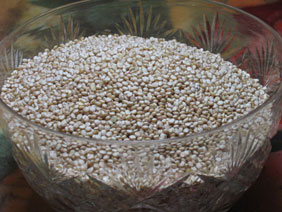 However, quinoa should not be the sole source of protein for your meal, it should be your grain. 8 grams in one cup is not a lot when men need 55 grams pf protein per day and women need 45.
Quinoa is also high in antioxidants and as more research is being done, we will continue to discover numerous benefits of this super food.
I eat quinoa almost every day. It is one of the most versatile grains there are. I love it because, it is so easy and fast to cook. Unlike brown rice it is much better cold in any kind of salad, or simply as a side dish as a grain with a little Braggs healthy natural soy sauce sprayed on top. Because it is much lighter than brown rice, I find I need more of it to fill me up.