Testimonials
Lesia lost 36 pounds
   Words cannot express how impressed I am with Sue-Anne's Body Typology program, especially how thorough it is.  I used to think I was making healthy choices, but in reality there were a lot of areas where I had some dietary bad habits that were downright hindering my metabolism.  
Sue-Anne's program zoomed in on those areas, helping to change those habits and forming better ones through nutrition.  As a result, I have more energy, feel better, my headaches have gone away and I have even shed 36 pounds.  I find myself happier and less frustrated, as I now have the tools I need to move forward.  
The new habits are also having a beneficial spillover effect on those around me!
The thing that makes this program exceptional, is Sue-Anne's patient and encouraging way in walking you through the changes. For me knowing that I was going to be held accountable on a weekly basis, was a real game-changer.  The program works, with our effort, I highly recommend her as an expert if one is struggling with weight or health issue.  Thank you Sue-Anne!  
Lesia Prystupa

Paula from Ohio, down 30 pounds so far...
"I'm nourishing my body now, I lost 30 pounds. I'm going to the gym, I feel so much better. I enjoy cooking now and preparing snacks.  Sue-Anne makes it simple and easy to understand.
There's no counting points or calories. I've reduced my diabetic and Blood pressure medications.
This program has saved my life." 
Paula K. 
I have been trying for 9 years to lose that 10 pounds. As an active runner, I found it so frustrating when the pounds just kept creeping up. I met Sue-Anne through a mutual friend.
This past June, I booked my first consult with Sue-Anne. Best decision I have made in a long time. After meeting with Sue-Anne via Skype(I live in Ontario,) she nailed it right away. My body type, my personality, my challenges, etc.
Not only did I reach my weight loss goal I had for 9 years, I have lost 25 pounds so far and maintained it for over a year, As well as the dangerous belly fat which is also depleting. Sue-Anne has helped with my diet immensely.
She showed me how to make the small changes that have made such a difference. My energy level is so much better and I can now get thru my days without that mid day slump.
I can't thank Sue-Anne enough for her constant support and for being the cheer leader I need when I get off track and tend to be hard on myself. I still meet with her via skype every three weeks, but had the greatest pleasure of meeting Sue-Anne, in person, this summer.
I truly feel we are friends and I honestly feel that if it were not for our friend Angie introducing me to Bodytypology, I would still be in that miserable rut.
Thank you Sue-Anne for your constant support but most of all, for your friendship.
Cyndy King

Lori lost 28 pounds in the 12 week group! "I found the group fun, positive and supportive. I am eating healthier, trying new foods, exercising and I am more positive. I learned that I can do it, I can make the change."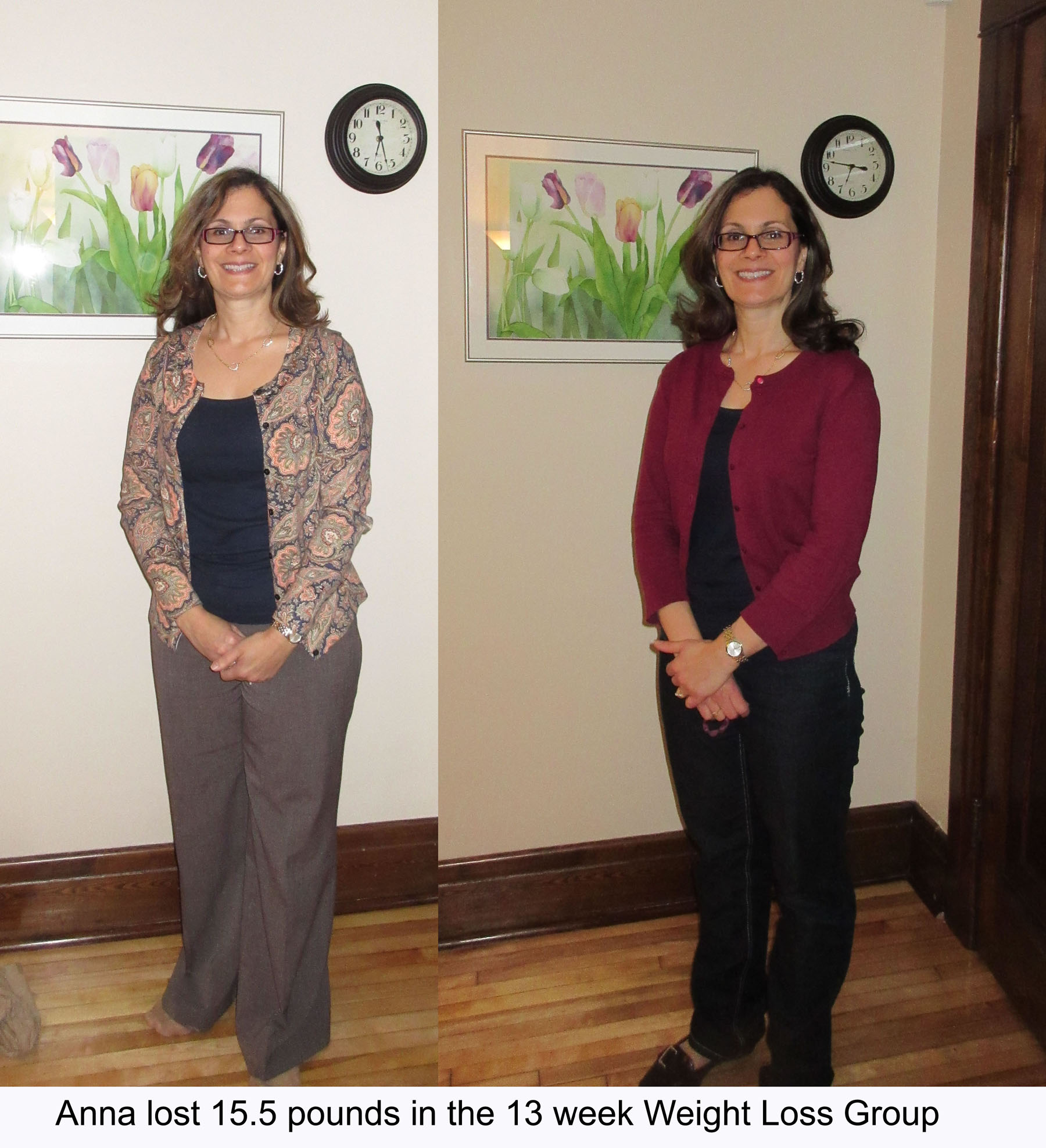 "I never thought it was possible!  I have struggled with an extra 15-20 pounds for many years. Any effort that I made on my one could only get me to a 5-6 pound weight loss that I would gain back fairly quickly. I found out about Sue-Anne through my gym and decided to try a new approach of getting some help.
I was unconvinced at first, thinking that I would lose the same 5-6 pounds and eventually put it back on. I got off to a slow start but really made an effort to follow Sue-Anne's advice and eat according to my body-type. I made many small changes to my diet and lifestyle - changes that I knew would be easy enough to maintain once the program was over.
After a few weeks, it was as if all the pieces of the puzzle were coming together. The pounds just started to come off, I no longer had mid-day energy slumps and I didn't have the feeling that I was always hungry anymore. I lost 15.5 pounds in the 12 week program! My husband said to me the other day "Who are you and what have you done with my wife"!!  I feel like a whole new person – Thanks Sue-Anne!!
Anna

"The best person to see when you are feeling down about your body! I started going to Sue Ann due to my sugar addictions, I am currently on the last week of my 14 week journey and I will tell you that I have zero cravings for sugar! She worked with me and helped me understand that food is all connected to my emotions. I learned to spot my emotional cravings and am down 27 pounds from when I started and my boyfriend is down 22 pounds.
I didn't do it for the weight loss but did it to have control on what my body needs. I cannot recommend enough that you to speak with her. She has changed my life!! Don't wait!!"
Jessica Poirier
I lost 30 pounds in the last 6 months! Sue-Anne helped me determine my body type and gave me a meal plan perfect for me. 
She also helped me slowly incorporate movement. I never thought I'd say that I love to exercise, but I do because it makes me feel alive. And with the right food I no longer feel like taking a nap in the afternoon. I no longer experience inflammation, it's really amazing. 
Thank-you Sue-Anne
Cinzia C.
I went to my family doctor yesterday morning for my check up. He is so happy with my health. Blood pressure is so perfect it scared him. According to his records I have lost 35.5 lbs since my last weigh in at his office.
He is very happy. I told him about you and he said it's working wonderfully for me, so keep it up. Thank you for helping me achieve such a good check up.
Karin H.
"Sue-Anne helped me enormously figuring out my body type and what is wrong with my digestive system. Once I started following Sue-Anne's guidance, I had no more acid, my stomach didn't bloat and I could sleep better. 
She has a great, holistic approach, healing your body and your soul at the same time, enabling you to find out the real reason as to why you overeat and have issues with weight. She is an expert in her area, very knowledgeable and very well prepared, with all the assisting tools and a cook book. I lost 9 pounds so far.

I would highly recommend Sue-Anne to anybody who is seriously invested in learning how to eat properly."

Tanya Z.
Sue-Anne helped me get back to my pre-pregnancy weight. I lost 14 lbs in 10 weeks! This was a battle I had been fighting for 5 long years. Best of all, I don't feel hungry all the time, I sleep better, and I have more energy.
Sue-Anne is a great coach! Her expert knowledge on the right foods to eat for my body type, her enthusiastic and positive attitude, and her gentle encouragement made it easy to make the changes in my diet. It has been a month since my last meeting with Sue-Anne, and I have lost an additional 2 lbs! Thank you so much for everything Sue-Anne!
Chantal S.

"Just finished my 12 session program with Sue-Anne and I'm down 15 pounds.  Following her advice and expertise is easy and makes sense!  Eat for you body type and your results will amaze you!  I needed to be "accountable" to someone and Sue-Anne was the perfect person - she's an educator and a cheerleader all rolled in to one"
Donna
"I came to Sue Anne desperately looking for a weight loss program that worked. I had tried all the latest fad diets zero carbs, no sugar, ketogenic.. etc. with no success. To my relief, It became clear early on that Sue Anne's program was going to work so I embarked on this journey thrilled and determined. Finally, my efforts showed results!
With so much contradictory information found online or in books regarding what to eat for weight loss, I was confused and thankfully Sue Anne was able to guide me with the proper food choices for my body type. So far, I lost 18lbs in 13 weeks! 

This was an amazing experience. I am so much happier and in turn so is my family, particularly my husband, who says "a happy wife is a happy life".

 I know and firmly believe that I will reach my goal weight through patience and continued diligence. It has been a true pleasure working with Sue Anne. I am so grateful to her and I cannot wait to embark on my second chapter to continue what I started and accomplish my goals.

Thank you Sue-Anne "

Carmelina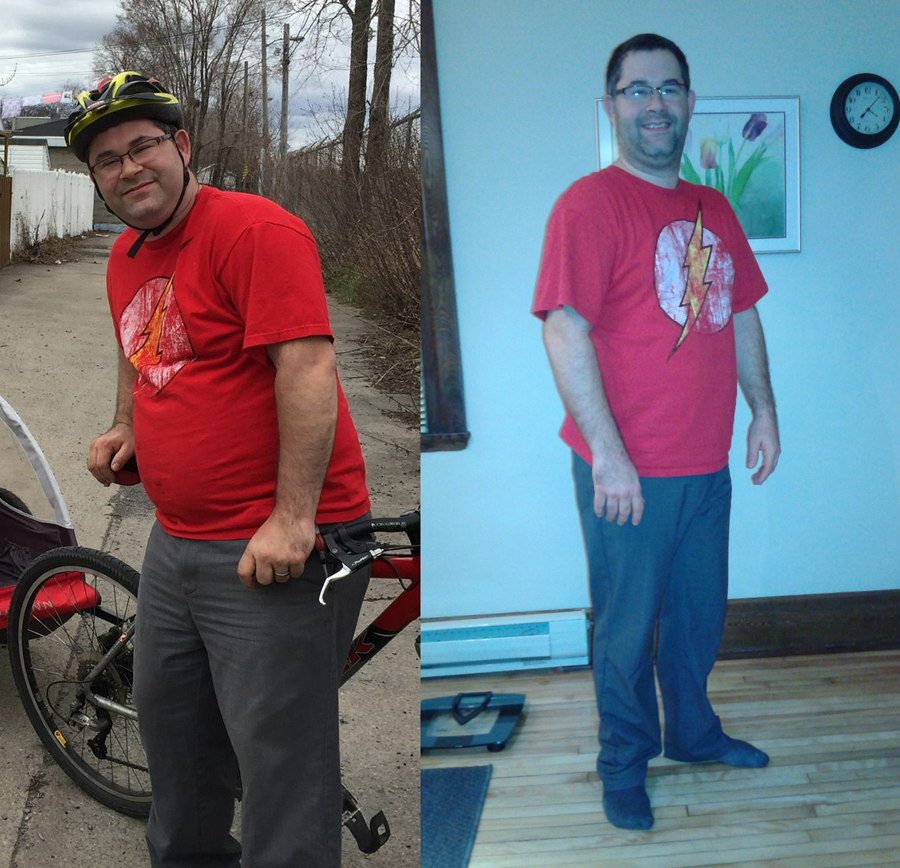 Have you ever consulted a health specialist and said to yourself, "Wow, this is exactly the person I need to help me?"  In my case, Sue-Anne stood out from any other people I had consulted about nutrition in the past.
She took her time to explain everything to me, from help with lifestyle management to what kind of  mindset pushes us towards chips or cake. I really appreciated the way she explained things I had been unable to comprehend in the past. It was the 2nd best decision I made in 2015, the first being to take charge of my health. Sue-Anne helped me so much and I lost 15 pounds with her 12 session program.
Richard V.

I was hoping Sue-Anne could help me with four issues:  Digestion (that was my main ailment), Sleep, Pain in my joints (arthritis) and Weight.  The latter was not a priority for me as I was not very overweight but I would be happy losing 10-12 pounds.
In only 10 days, my digestion improved tremendously, I was sleeping better.  Within the next month, pain in my joints (shoulders, elbows, hips and knees) subsided.  And, bonus, I was losing weight!
Three months later, I have no more digestion issues (at all!), I sleep 8+ hours of good sleep every night, I have hardly any pain left in my joints and I lost 12 pounds! 

The knowledge will stay with me forever.  Eating for MY body type has changed my life! It is simple, easy to follow and it works!

I feel great, lighter, rested, serene, energetic and so so so grateful to have met Sue-Anne!  

She is professional, knowledgeable, competent, kind, non-judgmental, witty, has excellent listening skills and an amazing sense of humour!  

Thank you, again, Sue-Anne, from the bottom of my heart!

Marjolaine
"I have more energy, I am happier, more fit and stronger. I'm not feeling sluggish anymore. I'm not eating the same way at all. I learned that eating my emotions is not the answer and is not going to help me reach my goal.  I have more awareness and I am now in control. 
 That's what I told myself when I started to feel and see a difference. I was no longer stuck, and I knew I was capable, I am stronger than the food. So far I've lost 13 pounds!"
 Anna M.
This is from a 15 year old woman I  worked with who lost 11 pounds! 
I feel more balanced, I have a lot more energy, especially in the afternoon, I have fewer ups and downs, and I'm a lot more productive as a result. 
I reduced my portion size, I eat way less snacks/sweets. I have way less sweet cravings, I now crave my mom's salads and crunchy carrots. I'm exercising a lot more on my own time.

I've learned to be aware. That you're in control and that food can't help you deal with emotions!
A.
"I cannot recommend Sue-Anne highly enough for anyone wanting to get their health back on track.

 I had been accumulating weight bit by bit over the last 10-15 years, in spite of what I thought were fairly healthy eating habits and activity levels.  Sue-Anne was able to advise me how to make small & subtle, but very key changes in my eating habits.
The focus seemed more about how to use exactly what and when I ate  to  maintain  energy ( I was often struggling with fatigue in spite of properly dosed thyroid medication)....pounds just naturally started coming off by following her guidelines for my body type. I lost 20 pounds in 10 weeks and have kept it off ever since!
Sue-Anne also helped me observe where other aspects of my daily schedule or lifestyle were sapping energy or falling out of perspective from my desired goals.We set small, but realistic short-term goals or "changes" each week: setting up the unused exercise bike in the basement( now I can't imagine life without it !), cleaning out one drawer or closet, going to sleep a little earlier, not having a glass of wine to wind down every night( now rarely having a glass of wine). And all the changes seemed more about keeping up my energy......losing weight was simply a happy bi-product of this process.

For me, these weekly check-ins were great for me to see my own progress & optimal for keeping up the momentum in my "journey" to better health. She helped me see that I sometimes wasn't taking as good care of myself as I did of others ( even my pets !); I gradually found myself guided to being more creative about where my time and energy went, and was able to better pace myself.
Thankfully I have the good fortune of being able to cut back on my work schedule, but had simply never had the courage to ask for the time off before. Sue-Anne helped me realize this was an untapped resource for me to recharge my batteries periodically if necessary.

Her non-judgemental and humorous support cheerleads us on to the changes we can make in our lives! Thank you for showing me all those possibilities, Sue-Anne! Bravo!"

Katherine P.


"During the 12 week Weight loss program I would say at about week 4 - I realized my life was often up and down.  Family issues made my day to day challenging but I don't have to eat like that ?  The meal plan is the meal plan and you can learn about the plan in about 1 hour....What made the difference for me was the process of being mindful on a daily basis... My core feelings popping up on my phone as a daily reminder of WHY I'm doing this.  Sharing with the group was the best. It kept me honest and accountable but in the same process I would discover why I went off track and what can I do to chance it.

Eating according to my plan is great ! After an adjustment period of about 2 weeks I went from feeling hungry twice daily to not at all.
Salt was my issue - and after 4 weeks on the program - I noticed i was not craving salt as much anymore.
I don't overeat - even when it's delicious - I actually have no interest in getting the OVERSTUFFED feeling.

The journal is simple and easy to use.  You eat real food, nothing packaged or transformed.
You're not counting calories or points and weighing everything and you loose.
Stick to the meetings they actually are key in getting you through the difficult weeks."

Marie-France L.

I followed your advice about what to eat for my body type for each meal and I stopped the high protein (fat) diet and I have lost weight.  Also, the pain under my feet and on my right arm (tendonitis) also disappeared a couple of weeks after switching the way I was eating. I now believe my liver was full of toxins and was not metabolizing all the fat I was consuming. Thanks a lot for your knowledge.
Claudia M.

I lost 10 pounds over Christmas and a 2 week trip to France! Mentally there has been a shift and that's huge. Instead of eating mindlessly, I am now mindful about food and hunger. I check in with why I am feeling that way. I feel more in control of food and food choices, versus it controlling me.  
I also want you to know how much you have changed my life for the better.  It's not just the food, but I am so less stressed.  Instead of letting things control me, I am not reacting in the same frazzled way.  I am more calm, reflective and appreciative. 
It was VERY evident over the last week and a half.  Events that would have caused me to spin out (physically, mentally and food-wise) are now just happening and I am then trying to manage the events as best I can.  No stress. 
It has been a life-changer for me and I want to thank you from the bottom of my heart.  There are not many people in my life who I can say have really changed my life for the better, but you are one of them.  I am forever grateful! Thank you.
Debbie D.
Sue-Anne's 12 week program was transformative to say the least. Not only did I lose an incredible 19 pounds and 10 inches, she helped me to completely eliminate my emotional eating.
The entire process felt natural and was effortless. I wish I had learned how to eat this way decades ago! I like how Sue-Anne takes a holistic approach to weight loss and gives you the strategies you need to succeed. Her positivity, individualized attention and incredible support were instrumental to my success!
Claudia H. 
I've tried many years to get some of my weight to come off. Moving from a competitive athlete who trained 6 days a week, to a university student for 8 years, to a busy working mom wasn't kind to my body. Sue-Anne helped me to realize that some slight changes to my eating habits, based on my body type, would make a huge difference, and it really did. No gimmicks or gadgets, just eating right for my body type! I lost 20 pounds! Thank you!
Katie B.

"I was diagnosed by my doctor with high blood pressure 2 years ago.  I was given medication but had a reaction to it, so was given another medication to counteract the reaction. 
It didn't take me long to realize that this is not the route I wanted to go. I decided to consult with Sue Anne to see if she could help me get off the meds while lowering my blood pressure naturally.
Sue Anne and I met and discussed not only my physical health but also my schedule during the day and evenings, my exercise routine, my relationships, hours of sleep etc..
In other words, she took an holistic approach to find the underlying cause of my high blood pressure.
Suggestions Sue Anne made included dietary changes, addition of foods knows to reduce blood pressure, and suggestions to reduce stress. By asking in depth questions, Sue Anne was able to get a complete picture of my life style and thus a better understanding of where I needed to implement changes.
I do not need to take any medication. My cardiologist is quite impressed with my numbers, and suggested that as soon as I stop implementing the changes I made in lifestyle and diet, my BP will certainly go back up and meds will be an option once again."
Judith Kolomeir
We went to see Sue-Anne because my husband was having chest pains and we realized we need to take better care of our health.
With our personalized body type plan my husband started losing weight and having more energy, so he started exercising more, improved his mind set to get better instead of being depressed. Also, he used to love his cookies and sweets after a meal, and now he has no more cravings for sweets.
Sue-Anne really motivates you, keeps you on track and you loose the fat, not muscle with the plan.
I also started following the plan and I also lost weight and I have a lot more energy. The best thing about following the kind of suggestions Sue-Anne gives you is that you don't look sick as you start to lose the weight in the right places because you still keep the muscle.
As we continue our journey towards better health, we are very grateful for the wonderful help we got from Sue-Anne.
I recommend Sue-Anne to everyone who is looking to improve their health and also lose some weight in the process.

Tajinder

I just finished my 12 weeks with Sue-Anne. I'm down 10lbs. and lost a total of 7 inches. Not only have my eating habits changed but I'm back exercising and always looking for a fun new way to get moving. It's taken 61 years but I believe my Yo-yoing days are over.
Thank you Sue-Anne
Christine S.
I used to be dieting all the time and now I'm not as I learned to eat right for my body type. I'm no longer addicted to chips and baking products. My digestive issues and aches and pains are gone and I lost 10 pounds. I noticed that the more balanced my food intake, the better my emotional state.

What I appreciate about Sue-Anne's program is it's simplicity. I appreciate Sue-Anne's openness in sharing her past and present goals and challenges which makes her very relatable and empathetic.
Linda H.

I started seeing Sue-Anne before Christmas (10 weeks ago) and have already lost 11 lbs! Nothing has ever worked so well and has kept me satisfied before or has felt so natural. Sue-Anne is a wealth of knowledge and inspiration.
The best part of my experience so far is that she helped me discover the root of my 10 year chronic cough (something that every type of doctor under the sun wasn't able to solve for me). Who would have thought a cough could be caused by wheat?!!
If you are looking to improve your lifestyle, learn how to eat right for your body type and learn so many new things that you have not heard before, call Sue-Anne!
Lisa M.
"Un gros merci à Sue-Anne, avec elle j'ai appris à mieux manger, après mes sessions je suis retourné voir mon médecin pour des prises de sang, et je peux vous dire que j'étais très contente des nouveaux résultats, tout à diminué; cholestérol, triglycérides, taux de sucre et même ma pression est beaucoup mieux...en plus de la perte de poids en bonus. Ça marche!!!! Je ne vois que des bienfaits!"   Merci = )
Mireille Jacques

"A big thank-you to Sue-Anne, with her help I learned to eat healthier. After working with her I went over my blood test results with my doctor and I can tell you I was very happy with my results. Everything went down, cholesterol, triglycerides, glucose levels, even my blood pressure is much better. As well as the added bonus of losing weight. Her plan works!!!! I have nothing but positive results!" Thanks = ) 
Mireille Jacques
''I just wanted to share with you my morning weight! When I started your group it was 160.5 and now ten weeks later, Fifteen pounds have melted away with what feels like no effort.
I am so happy to have been a part if your group. You have taught me a lot about my health and eating nutritious foods that are right for my body type. You have also taught me so much about myself.
Prior to meeting you I had tried losing weight with various methods- all were a lot of work and none had the results I experienced with you.
By making the small subtle changes you suggested, the weight has come off effortlessly, I no longer have food cravings, I love eating well and feel absolutely amazing.
Thanks for helping me change my life Sue Anne!''
Joleen 
"I have acquired new and positive great habits thanks to you. I am incorporating more vegetables, which I was never a fan of. Yes I would buy them, but they world end up in the garbage.
And I now realize that my portions were too large. Another change I acquired with you.
We do not realize it until we are shown what the norm is. Just want to say thank you for your help with my new changes. I already lost 5 lbs in 5 weeks.  And I'm very happy to be back at the gym, you motivated me to return to my healthy habits that I had let go of. Happy that I have found them again!"

All to simply say thank you!
Josee

"Sue-Anne, just want to say that I finally got on track with your last ebook about losing weight and now down 18 lbs ...and feel great no more sugar in my life except from the fruit and vegetables ... and my training for full marathon is going great."
Judy Bizier
"Sue-Anne is inspiring! She's passionate and committed to her work, which sends positive ripple effects to her clients, including me! I have been struggling with weight loss since having my children almost a decade ago. Sue-Anne's program got me back on the right track, mostly by helping me create an awareness about my body's needs, according to my body type. And her cookbook is great, too! Thank you, Sue-Anne!"
Z. Austin

"My experience with Sue-Anne during the 12-week weight loss program was amazing! I learned so much about eating well and how to be pro-active in losing weight and loving myself. I made new friends who also faced struggles with weight loss and better health. We were all able to lose pounds and inches with Sue-Anne's patient guidance.
I have changed my thoughts about food and life. I know that each day is a new beginning and a challenge. Sue-Anne has given me the knowledge on how to deal with these challenges without being overwhelmed and discouraged. She has shown me that accountability to myself is the most important thing. Each day that I eat well and move, I have more energy, sleep better and am happier. My family has even started to take notice and change their habits for the better.
Sue-Anne has the knowledge, background and experience to show us what we need to do. She is always encouraging, optimistic and helpful with each individual's challenges. It was interesting and fun to learn with her as our teacher."
Donna W. 
"I started visiting Sue-Anne when my new summer clothing started to get to tight. I just could not believe no matter what I did the weight just kept creeping up, so I had enough and did some research and found Health-and-Natural-healing.com. I was given an appointment with a few days and I felt completely comfortable with Sue-Anne.

While the doctor couldn't figure out what was causing the digestive issues I had been suffering with for 3 years, Sue-Anne did. She suggested going gluten free and within the first 3 days I could not believe how great I felt.  The bloating, the upset stomach, and all the other systems had greatly decreased. I been seeing Sue-Anne for two weeks now and I am feeling great! I can't stop raving about it to all my friends and family."
Diana G.
Lachine Qc

My experience with Sue-Anne was definitely a positive one. Not only did she teach me how to eat for my body type and weight loss. (I fit into my fave jeans again, I lost 9 pounds do far), but she helped me become a more confident person.
Her guidance also helped me manage my stress. In other words, I came out of the experience having learned a lot and feeling like a new person! I highly recommend booking a consult with Sue-Anne she is the best.
Rossana 
St-Leonard

''Massive leg cramps, sore knee, feeling over weight and a variety of skin conditions made me realize in needed to take action and stop ignoring my body.  Unequipped to do it by myself I reached out to Sue-Anne.  We started working together.
Today: lost 8 pounds and working on losing another 10, no more cramps, a happier knee, regular, and free of skin conditions.  Was it hard? No, because I was well guided. Sue-Anne's questions and coaching were and are in tune to me, my needs and my body type. Thank you for your pompoms!''

Marie-Claude G.
"One of the best decisions I ever made was to call Sue-Anne for a consultation, although I was a bit skeptical at first, I knew I had to give it a try.
 During the first month following my initial consultation, I lost 6 lbs. and then, after joining Sue-Anne's 12-week weight loss group, I lost another 13 lbs. With effort and Sue-Anne's guidance and encouragement, I was able to achieve what I thought would be impossible!
Other diets I've tried never gave me these results!  I would lose the usual 5-10 lbs. only to gain them back again within a short period of time.  I feel healthier, happier and I have a lot more energy.  Through Sue-Anne's program, I learned to set weekly goals, make time for myself by going on long walks, be accountable for my food choices and to never give up.
 Thank you Sue-Anne for helping me achieve my goals and for giving me the tools I need to continue on my journey to better health."
Natalie R.
Just want to say thank you for the support and encouragement over the last months.  Your weight loss program is right on the money in terms of highlighting the real reasons "why" we don't lose weight.  I learned a great deal about myself in this journey;  in particular my emotional eating habits.  
I  changed the way I was eating, adding in healthy grains, reducing sweets, etc. I've learned about and am enjoying my "new foods";  kale, quinoa, protein bars (your recipes), home made salad dressings, the hearty and healthy soups which I look forward to making in the coming cooler days. I even grow my own sprouts now!  
Based on your assessment of my body type, I'm eating lighter for breakfast and incorporating more proteins in my lunches (soups and a salad)  I'm drinking alot more water and exercising regularly.  My restless leg syndrome is all but disappeared as is my irregular sleep patterns.  My focus is to continue your good work and plan to join our local gym for the winter season to make sure I stay in shape!
Myra O.
Sue-Anne gave me the information and resources I needed to help me to help my myself. I lost 8 pounds, I am eating healthier, more protein, more fiber, I am more regular. I love her relaxation CD, I am getting out more and taking time for me. I am in a much better place than before I came to see her.

Beverly S. (75 yrs young :) )

"Just thought I would share with you that I just got back from my yearly check up and happy to report that my doctor was quite impressed with the change in my numbers all around ...EVERYTHING is way way down ...BIG improvement ...Thanks so much for steering me on the right path!"
Estelle

"My hot flashes started in 2001 and were unbearable. My sheets would be soaking wet every single time I slept, whether at night or even during an afternoon nap. My hot flashes happened all the time. I hardly wore a winter coat, the lighter the better! I could not wear anything with long sleeves or with wool.
 I did not want to take hormone replacement therapy because there is a history of cancer in my family, lung, stomach and breast. I was really left with nothing to do but suffer. Opening windows in winter, installing A/C in the summer were my only solutions, that is until I met Sue-Anne.
 She recommended that I do a simple cleanse with a product that would help my liver. I started taking it and my hot flashes disappeared! I must tell you that the results are fantastic: After 13 years, no more hot flashes! Thank you so much Sue-Anne for your advice."
 Mireille Kulisz

I consulted with Sue-Anne for frequent headaches, occasional migraines, and chronic fatigue during the day. At my relatively young age (24) I always attributed everything to an overdose of studying and lack of sleep, but upon consulting with Sue-Anne, she discovered I had many hypoglycemic symptoms.
She suggested I consume far more protein than I was at the time and drink more water throughout the day as well. I immediately took her advice and included a protein component to every meal or snack I consumed and tried to drink more water as well.
She gave me a list of protein-rich foods I could easily incorporate into my diet as snacks and meals. After only a week, I had already noticed a difference.
Several months have passed with this easy change and I can't remember the last time I had a headache! And when I do get the occasional one, the reason usually involves not having consumed any protein for several hours. The fatigue has subsided as well and I feel much more sustained energy throughout my days at work and evenings at school.
Sue-Anne was able to help me overcome something I had been struggling with for years by guiding me towards making the appropriate changes to find relief. Thank you Sue-Anne, I am most grateful and owe my new and improved productivity to you! ;)
Christina Koufoudakis

I started seeing Sue-Anne once a week in mid-January, 3 months later and I have lost 15 pounds and I feel WAY MORE energetic and happy! More important, I can see positive changes in my overall health.
 I am 55. I have gained a few pounds every year for the last several years. In January I was 190 lbs. Over the last decade I had developed high blood pressure. Last year my doctor warned me that I also had a pre-diabetic condition and that if I kept doing what I had been doing I would probably need to take diabetes type-2 medication in the coming 3 to 5 years. I did not like hearing that! 
 I have been trying to lose weight on my own for the last 5 years.  I did South Beach diet and other low-card methods. I would lose 10 pounds in a couple of months. These diets would make me lose weight but I felt dissatisfied and frustrated - it was not a sustainable approach to adopt for the rest of my life. I would progressively quit the diet and go back to my previous weight and add some more pounds, feeling quite unhappy and depressed about it.
 With Sue-Anne, we worked out a plan together, MY life plan! It put me on the right track I learned a lot more than just about what to eat. She has shown me an approach on how to make these changes long lasting and how to deal with reality of life that otherwise would quite often derail well-intentioned people.  I just came back from a two-week business trip, eating in restaurants 3 times a day and I lost two more pounds!  I stayed active, exercising while having busy business days. Way to go!
 I am convinced that the changes I made are there to stay. When I eat I feel satisfied and I don't feel frustrated at all. I am not counting anything, I just live my life, happily. My sugar blood level is decreasing.  My energy level is much higher and consistent through the days.  I sleep less and I wake up in the morning naturally, feeling more energetic.  I no longer feel sluggish in the evenings.  
 I truly appreciate the comprehensiveness of Sue-Anne's 12-week program. I got so much more out of this experience than I expected.  I understood the 'why' behind some of my bad habits. Having "Ah ha! Moments" during the program has been instrumental for me!
 I am so grateful to Sue-Anne for having helped me make these changes in my life. Meeting Sue-Anne has been a LIFE CHANGING EXPERIENCE for me! 
 Alain Legault
I had been trying to get rid of hives, which sometimes covered half my body, for 4 years. I had seen general practitioners, and allergist and had tried drugs and medication, nothing worked.
After following Sue-Anne's guidelines the hives disappeared and have not reappeared.
Rachel L.

"Sue-Anne took the time to assess and suggest a new healthy eating plan and some recipes. After a few weeks I ended up losing weight although that was not my goal. My energy level is much higher and more constant throughout the day.Thank you!"

Frank P.

I met with Sue-Anne in July and she taught me how to eat for my body type. I took to the program really quickly and found it easy to make some major changes. Such as changing my sweeter from Splenda to Stevia a more natural sugar. Eliminating my 2 daily diet soft drinks,  I now go for water and herbal tea.
I am making healthier food choices and eating foods for my body type that help me feel more satisfied during the day and my cravings for the less healthy foods (high sodium and sweets) that I used to enjoy have diminished considerably. I am more aware and am better at planning what I'm going to eat. I have become more active… walking everyday and feel better in general and have more energy to carry on with my day.

Being more aware and making better food choices for my body type has certainly paid off.
I want to thank Sue-Anne for her guidance and her encouragement on my journey to wellness!
Suzanne T.

I have met with Sue-Anne since 2013 to balance acidity, boost my energy and learn appropriate eating techniques for my body-type. She is not only sincere, straight-forward and organized to work with one-on-one but she also takes the time to answer my questions with respect to the needs of my children with specific guidance and 'do-able' methods. Thank you Sue-Anne!
Judy V.

"I met Sue-Anne after a fair research on the best naturopaths in Montreal. My intuition, but also her professional credentials made me make an appointment  with her, and I am very glad I went to see her. First of all, expect to meet a great person, a kind, compassionate, knowledgeable naturopath.
She was the first person to properly diagnose what was something I have been sick with for years and years, the candida. Her naturopath plan for myself is totally customized to fit my busy life, career and my particular other specific issues.
Sue-Anne simply doesn't give up on you, but you don't have the feeling, not even for a second that she "pushes" you too hard. You WANT to get better after you see Sue-Anne. I liked the fact that she backs her advice with real life examples and she stays true and realistic in all her recommendations to you.
I am mid-way through my naturo-treatments that Sue-Anne prescribed for me and I know this is the beginning of a better, happier, healthier state of health (and mind) for me. 
One more thing…I called Sue-Anne OUTSIDE of our appointments for an issue that occurred suddenly in my life (an eye infection). I had it for almost a week, I tried  the antibiotic drops from two doctors (one from Lakeshore Hospital emergency room) and nothing was helping (if anything, it was becoming worse).
So, I called Sue-Anne and out of kindness and her own spare time, she took the time for me and advised me what she thought I'd do in that situation. Her recommendation of the colloidal silver was a God-sent! My eye infection  finally went away very quickly, over night!!! Thank you, again, Sue-Anne!!
I am very thankful to have met you-the kind, educated, well-informed and considerate naturopath that you proved to be. And even if I have to drive for a bit to see you in your serene Lachine office, I will gladly continue to do so (when needed) and take your precious advice.  All the best in your life and career and thank you for helping me!"
Roxana V.

After visiting Sue-Anne for my own dietary needs, she gave me some insightful and practical direction in regards to my toddler's dietary needs in correlation to her sleeping through the night. I increased her protein intake at dinner. From one week of nightly wake ups to the next week of no wake ups! My husband and I are getting more rest! Thank you Sue-Anne!
Nathalie M.

"Sue-Anne has provided me with a blue print to a healthy lifestyle that is easy to follow and yields great results. I am down 13lbs from my highest weight and this in a 3 month period. Slow and steady is the way to go. Sue-Anne's support and coaching has been invaluable and I will continue to apply her principles as I walk/ride towards my goal with only 12 lbs to go."
Egidio Perugini
(written to someone who referred me)

"I can't thank you enough for introducing me to Sue-Anne.

I had the best consultation with her last night. I was telling her how this past week was really off for me. How I slipped back into some bad habits, (cookies) and feeling such guilt for it. Also about my gloomy days.

She listened intently then asked what positive changes I had made.

I totally was looking at the bad and she reminded me of all the good things I have done in 3 weeks.

She is a great cheerleader! By the time we were done our session I felt better than I had in days. She is so positive!

Thank You, Thank You, Thank You, for sharing your friend!"
Cyndy K.


"When I first started dieting in December, I was at 207 pounds. I decided the best thing for me to do was just keep track of calories, but eat whatever I wanted to ensure I was getting exposure to enough nutrients. I started counting calories and dropped down to 191 before the end of December. Even though I dropped the weight quickly, I still felt miserable, low energy, mood swings, and imbalanced body functions. I eventually stopped losing weight and began to gain the weight back weighing in at 204. I felt that losing the weight would be almost impossible at this point.
My luck changed when I contacted Sue-Anne.  I decided to follow her diet plan that fit my body type.
I eat actual portion sizes and no longer count calories. It has been two months and I feel great. No more mood swings, low levels of energy, and most of all my body functions properly. The first week on the diet my body literally cleansed itself of all the bad material. The next few weeks after that I lost three to four pounds a week, till now I am losing one to two pounds a week. From the starting point of the plan, I have gone from 204 to 182. My waist went from 45 inches to 38 inches. My hips went from 51 inches to 47 inches. My thighs went from 26 inches to 23 inches, and my bust went from 48 inches to 43 inches. I feel so great, and I will continue to stay on the eating diet."
Magen Boyd
After this 13 week weight loss program with you Sue-Anne, I feel renewed and on my way to a healthier me in the future. I lost 10 pounds and it was no effort to stick to it.
This plan has taught me about nutrition with a new insight and opened my eyes to self actualization, Thank-you, Sue-Anne
Kari Q.

"The biggest and most surprising occurrence is that I am not feeling down or "blue" as the is the way I usually feel from the end of October to March every year. This is the best I've ever felt in December, I actually have energy!! And mood wise I feel fantastic! I feel like running instead of the usual opting out of activities so I could veg on the couch after work or sleep. I feel good!
 
Thanks Sue Anne for all your help and concern, you're amazing!"
Angela Massimetti

"Thank you Sue-Anne, for holding such informative, nutritional and hormonal body-type weight-loss sessions. I particularly enjoyed the idea of having a "buddy system" in place so that we could be in touch on a regular basis to share our challenges as well as our milestones.
I find that my weight is literally falling off without any effort, so long as I follow the eating plan of my hormonal body type. I have lost another 3 pounds since the sessions ended last week!
I must admit that I was quite skeptical at the beginning, and found it hard to believe that you can eat according to your body type. However, you have proven this to indeed be true.
Not only have I lost weight, I feel much better. I suffer from asthma, and since being on your plan for several weeks, I have not had to use my puffers at all!
You are truly an inspiration; your knowledge, friendly and easy-going personality are perfect for leading such groups. I look forward to continuing the process, and to be followed by you in the future".

With best wishes,
Linda

"Since working with Sue-Anne, I have learned to let go of counting calories and instead enjoy wholesome food to the point of satiation.  I am eating more and in the first week lost 4 pounds. I feel great."
Rachel Leider

"I joined Sue-Anne's weight loss group only 4 weeks ago and have already lost 9 pounds!  Sue-Anne's body type plan is simply amazing.  It has been so easy to follow, and is not time consuming; very important for a busy working mom of 2!  She has taught me so much already about food and what works for my body type.
I have so much energy and feel simply amazing!  The sessions are very informative and offer so much support.  Through the group, Sue Anne provides so much encouragement and helps you find solutions to help you overcome your obstacles.   It has been such a great experience so far and I am looking forward to what the next 6 weeks will bring!"

Joleen D.

"Back in the fall I met Sue-Anne at a breakfast meeting where she had been invited as a speaker. Sue-Anne is a naturopath and has an approach that I liked. So I decided to give her a try. I found out how dedicated she is.
One of our sessions we went to the health food store so she could show me the more healthy kinds of foods, salt, nut butters, snacks, etc., to purchase. Thanks to her I am now learning how to transform my recipes into healthier versions. She helped me become more aware and taught me that when I eat more healthy and exercise my blood sugar goes down.
It is a long road to relearn everything. Years of abuse on my health is not easy to reverse but with her guidance it will be much easier. Thanks Sue-Anne"
Mireille K.
"I will admit that I may not have adhered to the program and taking the supplements as rigorously as I would have liked to, but despite this, I have remarked reduction in the severity of my menstrual cramps.  During my last period I did not even have to take any pain killers.  I used to take 3-4 very strong painkillers/day and now I may take 0-2 during the entire duration of my period."
Eva Gagnon
I tried so many different weight loss programs without success.  Sue-Anne's Weight Loss Program has helped me to become more aware of myself, what I need to do and follow for my body type.  Her tools, and expertise have been and are extremely helpful to me as I continue this journey and transformation. 
I now have more energy and less joint pains and very please to finally say, fewer cravings.  I am feeling great and am so pleased that the plan is easy to follow allowing me to be full and satisfied.  You just need to be determined and focus on the long term results.  Thank you Sue-Anne for  your continuing support, guidance and motivation.
E.L.

"I struggled with low energy and depression for many years before meeting Sue-Anne. Now, thanks to her coaching and support, I gradually changed many of my habits and feel much healthier. After a few sessions with her I regained a lot of my vital energy and was able to get off of my antidepressant medication without major struggles. Sue-Anne is a highly qualified professional whose help was essential to the general improvement of my health. I have no reservations in recommending her to all those who wish to improve their health and well being in a natural and sustainable way".

Rogerio B.

"I have lost 9 pounds since I came to see you less than 4 weeks ago."
Dave Pollock
"I used to have eczema and when I went to see Sue-Anne, she gave me some creams and vitamins, that fixed most of my ezcema. Before my skin was open and after that it closed my skin.
I do not trust the creams you get from the other doctors because it hurts and burns my skin, it does not cure my skin, it made it worse.
If you do not want to see my naturopath at the beginning, I will give you her best advice: lower your sugar because its bad for the ezcema."
Alex Ruiz Zeledon - 10 years old

This weight loss class was a learning  experience on how to eat natural foods & promote healthy living. We have become accustomed to foods that have been drastically modified & contain too much salt, sugar & fat. 
I'm gradually replacing my cleaning products to non toxic ones. Being particular, I'm delighted with the results. I have changed my attitude for the better.
Sue Anne is kind, generous & dedicated. I thought it would be just about weight, instead I have gained interesting & valuable knowledge towards a better future.
Thank you,  Sue Anne.
Jean D.
"I would like to personally thank Sue-Anne for her exceptional advice. Following my two recent burnouts I consulted Sue-Anne and I'm very grateful that I did. She suggested some supplements in order to boost and regain my energy.
In less than a week I saw the results my energy and health was transformed. I needed less sleep, was up and about, my energy increased incredibly. I was able to function again! Thank you Sue-Anne!"
Gina
"I was at a conference given by Sue-Anne and was very interested in what she had to say about acidity levels and candida.  I have been suffering with food intolerance, digestive problems and osteoporosis for a long time so I decided to see her for help with these issues.
I have been on a strict diet and supplements to cure my candida for about six weeks now and I am noticing the difference in my body.  I don't feel nearly as bloated and I don't have the cravings for sugar and carbs that I started with. While the diet was challenging at first I now find that it is not that difficult at all and I find that the healthier I eat the better I feel!
Thanks Sue-Anne for your help on my journey to health!"
Debbie
"Just wanted to say thank you to all of you, especially Sue-Anne, for all the great info I received and the insight and motivation you all gave me.

I am glad to report that I have lost another 2 lb so it seems I will be able to keep on getting better at eating and feeling healthier.  Still going to the gym twice a week, hoping to increase that to 3 x wk eventually.

I can truthfully say that even if I only saw you a few times, you have definitely change the way I look at life.  Thank you so much for that gift!"
Carolina V.

I'm still doing pretty well on the diet. At the 50 lbs mark now:))
Jessica
"On or about March 4th I was diagnosed with shingles. The itchy, burning sensation I dealt with was agonizing.
I decided to opt out of the pharmaceuticals that were prescribed to me; the side effects included (but were not limited to) mood changes, agitation, hallucinations, yellowing eyes/skin, easy bruising/bleeding, headache, nausea, and diarrhea.
I was very grateful for the help that Sue-Anne Hickey was able to provide me on such short notice. She recommended and was able to set me up with two herbal supplements as well as a chlorophyll liquid.
Within 36 hours of starting the prescribed daily amount of supplements, I noticed a huge improvement. The pain was nowhere near as severe as it was and the blisters started to scab over and not itch as much.
The symptoms were completely gone within 5-6 days and I was completely healed within 2 1/2 weeks as that was the amount of time it took for the scabs to subside.
Without the help of Sue-Anne and her recommendations, my ordeal would have been much worse. My only regret was not contacting her 24 hours earlier.
Thanks again Sue-Anne,"
Guy Walker
November 6th 2011
"I badly needed to lose 60-70 pounds to be able to successfully participate in a cycling endurance event next August. I went to see Sue Anne and following her healthy eating plan for 7 weeks I lost 24 pounds and went from wearing size 44 waist pants to squeezing into size 40. I realize I still have a very long way to go but I am extremely pleased with the progress to date."March 26, 2012
"It has now been six months. I have lost 30 pounds and I both feel and look (based on the comments I have been receiving) better. I have continued to stick with my food plan and have even developed a taste for the whole grains and fruits and vegetables she recommended. I am now due for a wardrobe change as all my clothes are swimming on me especially my belts where I have been required to keep punching new holes every couple of weeks."
Mark Schacter
"It has been a year since I met with Sue-Anne to discuss my health.  When I first saw Sue-Anne I was struggling with many health issues which could not be medically diagnosed but nonetheless really affected my quality of life.  I was tired and bloated and had a lot of problems with digestion.  I had been to many doctors and had numerous tests which showed nothing.  I was very frustrated.
Sue-Anne suggested I go on a candida diet and take specific supplements to help me.  At the beginning I thought it would be impossible to stay with the diet as it was so restricting. Once the cravings subsided I started to feel better and the diet was easier to follow.  I never realized that I was eating so much sugar or that it was causing a lot of my symptoms.  There were a few set backs along the way but Sue-Anne was always there for me when I encountered a problem to give support and to adjust supplements to my needs.  I stayed on the diet for over 6 months and my health has improved immensely during that time.  I have more energy, my digestion is greatly improved and I feel healthy!
I am so grateful that I met Sue-Anne because she is the reason I am healthy today!"
Deborah Brown

Sue-Anne helped me take my health into my own hands. She figured out the cause of my health issues and found the solutions. I made gradual changes to my eating habits and some of my lifestyle habits and cured myself completely. I lost 15 pounds in the process, although that was not even what I had originally intended to do!

Today I feel great, my energy has increased and I feel even better than before I started experiencing health issues. I know what to do to avoid falling back into the same pattern.
Sophie M.
"Sue-Anne is a wonderful Naturopath who certainly LOVES to help people!   She will make sure that she provides the proper diet & supplements that will surely help you!  Other than being very experienced & very knowledgeable at Naturopathy, she's also a very friendly & warm hearted person.  So it's a real pleasure getting consultations from her.  I feel very lucky to have found her! 
As for my situation, I was a very special case in which I had trouble taking supplements and I couldn't even handle a lot of healthy foods such as raw vegetables (my liver and colitis would always inflame). 
Sue-Anne carefully assessed my situation and my health history, and sure enough, she was able to figure out specific ways to get me to tolerate more vegetables again.  I am also able to tolerate the supplement that she recommended, which is even healing my liver issue! 
I am certainly on my road to a bright and very healthy future thanks to Sue-Anne!  Again, I feel very lucky to have found her : )"
Charles from Pierrefonds
"I finally got fed up with the extra weight I was carrying. It was not good for my health. During our consultation, Sue-Anne developed a personalized plan of healthy food and healthy eating habits. It was easy to follow and fit into my lifestyle.
I have lost 15 lbs so far and even better I have been able to get into pants two sizes smaller. She taught me to choose proper healthy foods and I was never hungry during the day.

I feel a great deal better, lighter and younger and have a lot more energy. Sue-Anne did a great job for me."
Steve A.
"I found Sue-Ann's e-book an accessible way to improve my health and my energy level. I was already eating in a healthy and balanced manner but discovering my body type made me identify wheat as a non-recommended carb for my type. Since I've replaced wheat with other goods carbs like kamut or spelt, I am feeling better, less bloated and my energy level has increased! Thank you for the insightful information Sue-Anne!"
Annie Voyer
"I've known Sue-Anne for at least 12 years. She is very professional, committed and dedicated to everything she does. She talks the talk and walks the walk. I had great results on other health issues with Sue-Anne, looking forward to even more with her new ebook. Thank you Sue-Anne for being who you are."
Edi De Pretto
"I started using the adrenal type diet plan to combat acidic body and acid reflux. After about 4 weeks, I found the acid reflux has drastically decreased and I am still functioning quite well. Surprisingly, I discovered that I lost my "love handles" and about 11 pounds at the same time."
Ken G.
"I consulted with Sue-Anne last fall as I was not feeling myself. I felt overly tired, sluggish and was finding it hard to lose the 10 pounds that had crept up on me over the past few years.
During the last eight months I have met with Sue-Anne several times and we adjusted my diet according to my body's needs. Today, I am feeling more energized as a result of following Sue-Anne's recommendations. I have lost weight and even some belly fat!
Sue-Anne is compassionate, knowledgeable and very generous with her time.  I especially appreciate her follow up emails inquiring if I have any questions or concerns. 

I highly recommend Sue-Anne to everyone who is looking to improve their health naturally."
Judy K.
Thank you for the wonderful experience and for your positive motivations during this group's weight loss session. I have lost 10 pounds and many inches off my body...a re-sculptured body!! You have shown me how to eat for my body type that actually works...Amazing work Sue-Anne. I thank you for helping me begin my journey to a healthy lifestyle! Much appreciated,
Gina C.

"It was wonderful to have you speak to the Running Room groups. I received a lot of positive feedback from both the walking and running groups. It was refreshing to have someone really put an emphasis on the importance of individuality. It's something I focus on a lot in my clinic and I find myself sounding a bit like a parrot but eventually it will sink in!
I let my manager Alex know about the positive feedback so I'm sure he will spread the word to other instructors.
Thanks goes to you for coming to speak to us! Very much appreciated."
-Steph
"I have had candida probably for decades. It presented as flu symptoms mostly around the sinuses. My energy was low and I was lethargic and depressed. I always felt like I had to preserve my energy and needed a lot of rest, I thought of myself as "sickly". Also, following menopause I developed a middle aged gut which I could've get rid of no matter how I tried.
  I have recently completed the 3 month Candida cure and feel better than I have EVER felt in my whole life. I have energy , sleep deeply, lost that bothersome extra 10 lbs and have my flat stomach back. My sweet cravings are non-existent and eating according to my body type has changed my life. I highly recommend doing this cure. It is somewhat daunting but with helpful hints and support from Sue Anne you will be successful as well. I only wish I had been offered this cure almost 30 years ago when I started this journey. Thank you Sue Anne."
 Linda B
"I often feel overwhelmed and anxious first thing in the morning, almost as if I'm not equipped to deal with what the day has in store for me.  These symptoms have all but disappeared since I began to regularly take a complex B supplement Sue-Anne recommended."
Kirsten S.

Learn more about Sue-Anne Hickey - Montreal Naturopath.

Return From West-Island-Naturopath-Testimonials to Home Page