Not enough water can be part of your weight gain causes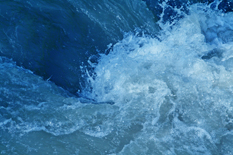 13. Dehydration - Drinking water to lose weight 

You want to be a river, not a stagnant pond!

Many people mistake thirst for hunger. If you are thirsty, it is too late, it means you are already dehydrated. Keep water available to you at all times and drink it. I always have my stainless steel water bottle filled up and with me when I am out and a glass of water on my desk.
Your urine should be pale, except for the first urine of the morning. This should be an important one of your weight gain causes to work on. Drink as much water as you can to control sweet cravings and lose weight. 

14. Lack of digestive enzymes
It is hard to digest your food properly if you lack digestive enzymes and you will still feel hungry after eating. One of the main reasons for a lack of digestive enzymes is not enough raw food in the diet. If you eat a lot of food that is fried, microwaved, or overcooked you won't have enough digestive enzymes. To maintain a healthy weight, and eliminate all Weight gain causes increasing raw food in your diet is important and it also increases the amount of fiber you eat.
If you lack digestive enzymes, your body will use your protective enzymes, compromising your defense against free radicals. The elderly produce less hydrochloric acid in their stomach and highly benefit from a digestive enzyme supplement.
15. Anemia and low blood pressure.

Anemia can either increase or decrease appetite. Often when the adrenal glands are weak, blood pressure is low and this can cause sugar cravings and hypoglycemia. 

16. Slow metabolism
In order to keep your metabolism going you need to stop using calorie reduced and restrictive diets. Intermittent fasting is simply another fad diet that is unhealthy and unsustainable.