Body Type Quiz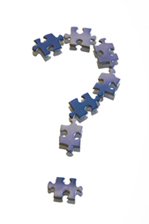 The Body type quiz is the key to your long lasting weight loss success.
If  you've tried every diet and find that nothing works, that's because you haven't been eating right for your body type. 
There are 4 different women body types and 3 men body types. It has to do with the glands. One of the glands is working herder than the others and the others are trying to catch up. This creates an imbalance. 
As long as there is this glandular imbalance, weight loss will be impossible, cravings will be through the roof and you will always feel hungry.
The Body Type Quiz - How to Figure out what body type you are
As a certified naturopath and weight loss specialist I've helped hundreds of my clients drop the pounds they wanted to by following their personalized body type plans. "

Everyone always wants to know how I figure out their body type.
The number one thing to know is that you can not determine a person's body type by their shape alone!
It's essential to look at many different factors: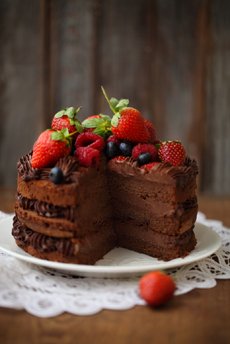 Your energy levels
Are you a night owl or a morning type
What time do you get up in the morning?
When do you go to bed?
Do you need a lot of sleep or ok with a  little
Your food cravings
Sweet, salty or both? Creamy, cheese, spicy, meat or vegetarian, fatty, fried, carbs, alcohol, red, wine
Favorite breakfast, pasta sauce, meal, snack
Difficulty with portion control? 
Always hot or cold
Do you get red faced easily
Make muscles easily
Do you have cellulite,if so, since when
What specific ailments are you most prone to
Are you social, jovial, the life of the party, or more introverted
Are you a motherly caregiver and do you have a hard time taking care of yourself? 
What part of the body do you tend to gain weight on
Creating the body type quiz
So as you can see, to determine a person's body type is very challenging when there are so many factors playing a role in determining a person's type.
I created the body type quiz as a short, fun way for people to get an idea of what their type may be, but of course if you want to go more in depth it is best to contact me and together we can take the time needed to ensure you have the right body type and your personalized body type plan for lasting weight loss.  
Body Type Quiz For Women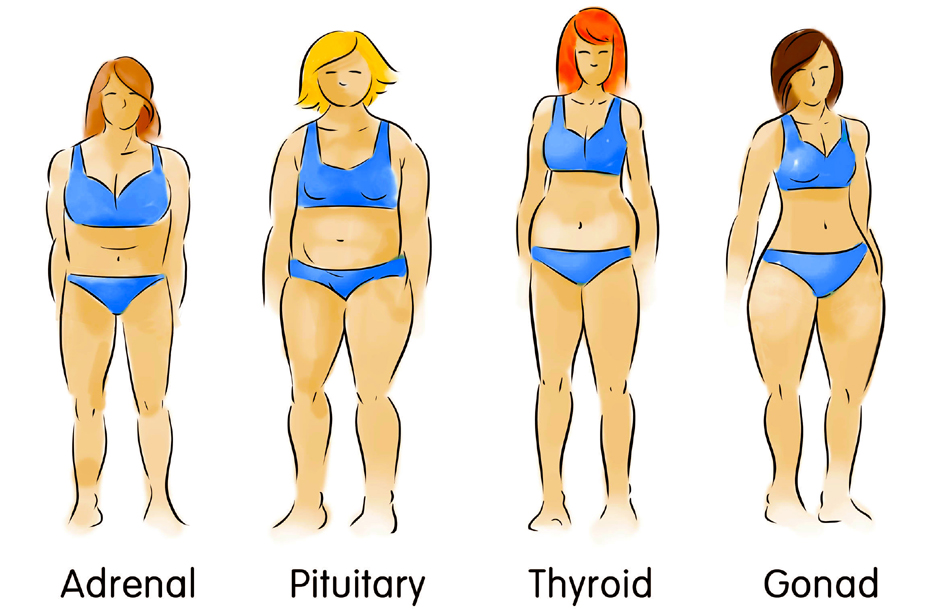 You can see by this graphic the 4 places where each body type tends to gain weight. 
The Adrenal Type: tends to gain weight in the upper body, the chest and the belly tends to be high, right underneath the chest, (unless gravity has played a role) think Oprah. The body is sturdy and strong and the legs may be small.
The Pituitary Type: tends to gain weight a little bit all over, soft, baby like fat and they tend to have a baby face, young appearance. 
The Thyroid type: is generally tall and slim with long limbs. If they gain weight it tends to be around the middle, like a  spare tire. 
The Gonad Type or Pear Shaped: Gonad has to do with the ovaries. tends to gin weight in the lower body, the saddle bags, hips and thighs. They may have a small chest and often have cellulite on their thighs. 
---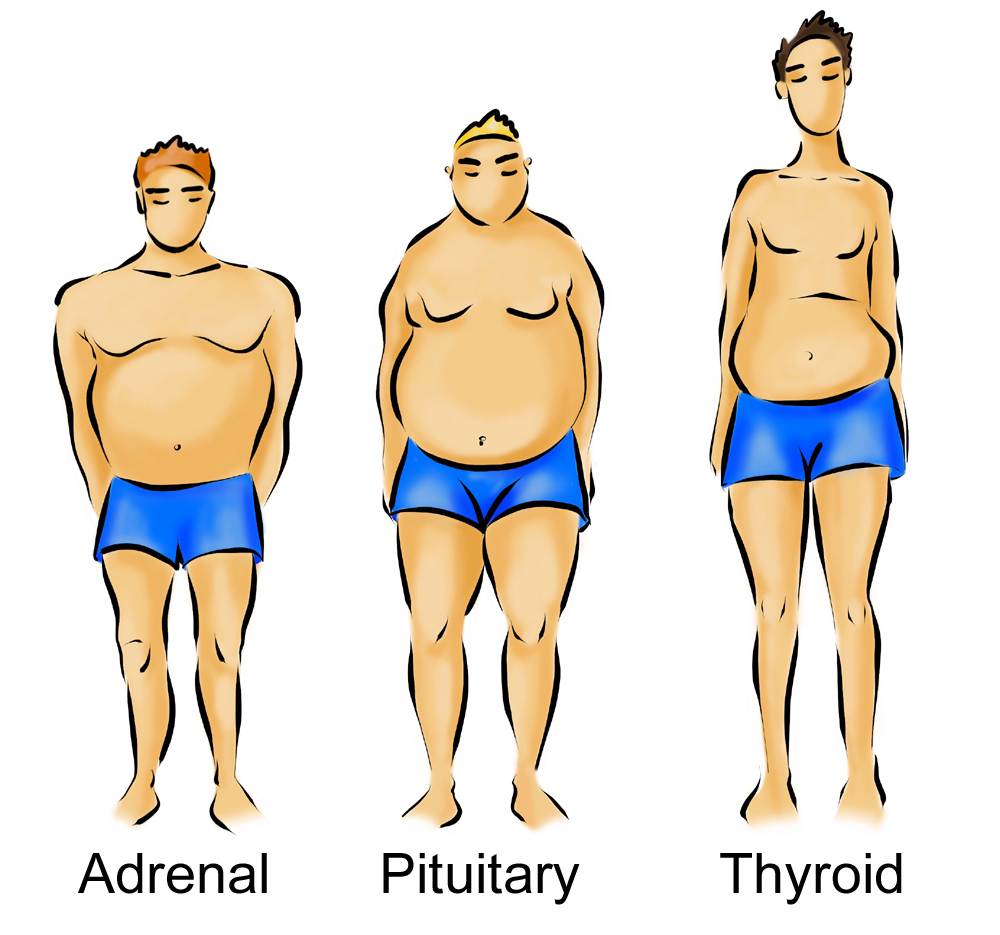 There are only 3 body types for the men.
Similar to the descriptions above, the Adrenal type gains weight in the upper body, the Thyroid around the middle and the Pituitary, all over. 
---
The Body Type Quiz! 
Sign up for my weekly newsletter to get tons of great weight loss and health tips delivered to you free when you take the body type quiz! 
Have you figured out your type? Did you take the body type quiz? 
Once you have your body type figured out, the next step is to book a discovery call with me so I can let you know how to now finally use this information to your advantage. 
Or else this time next week you'll still be stuck, repeating the same mistakes, slipping into the same emotional or stress eating patterns, never losing the weight you want to!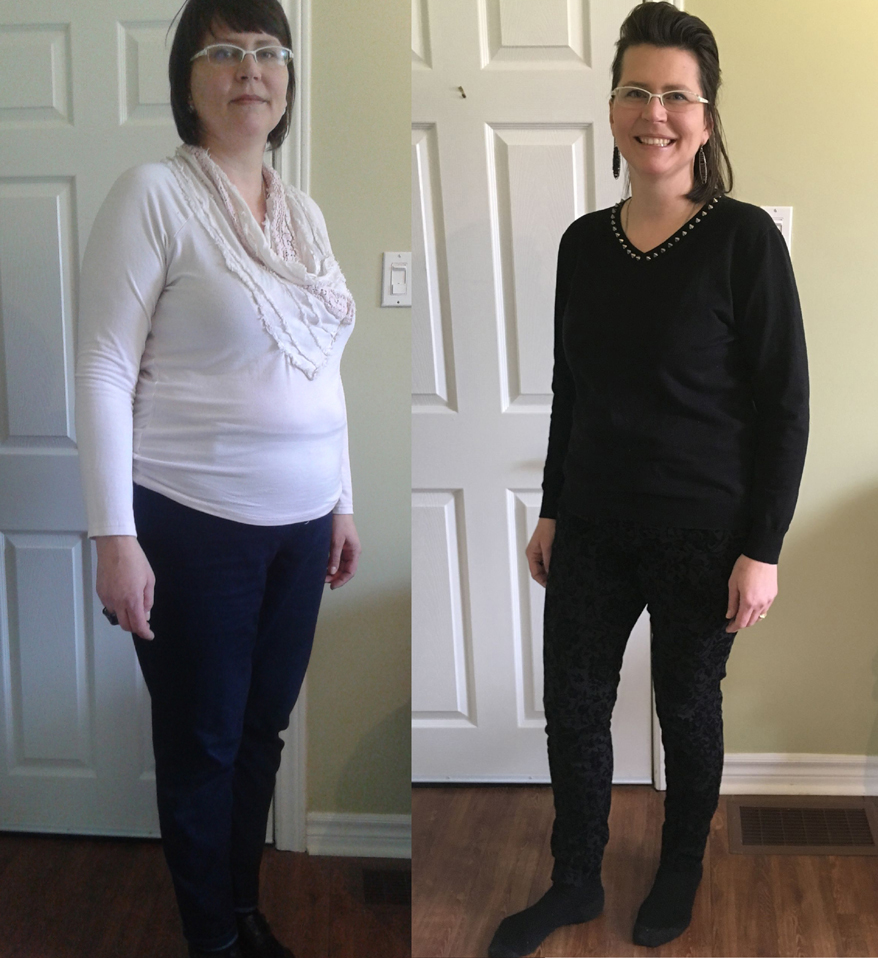 Habits are hard to break, but with the guidance, accountability and expertise I provide in my bodytypology program, can guarantee you the success you dream of. Like Lesia, on the right, who dropped 36 pounds 

Imagine easily dropping 35 pounds or more? It's totally possible following your body type plan!
"I have more energy, feel better, my headaches have gone away and I have even shed 36 pounds.  I find myself happier and less frustrated, as I now have the tools I need to move forward."  

---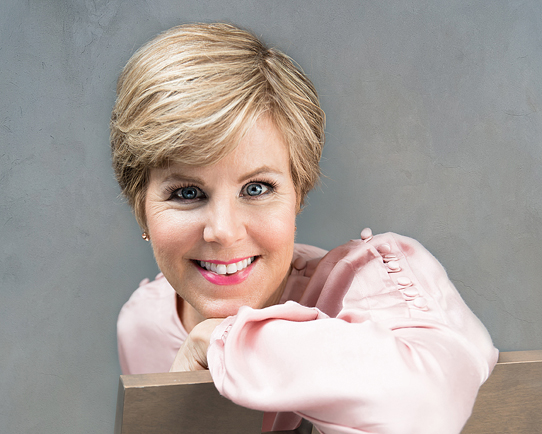 Hi, my name is Sue-Anne Hickey and as a certified naturopath, my passion is in working with women who are ready for change, who are really ready to transform their lives. I will show you Everything you need to know about nourishing your particular body type with the right kinds of foods at the right time.
The results are nothing short of spectacular.
Contact me now! 
---