Bicycle Tour Vacation
Last summer, my solo bicycle tour vacation took me through eastern Canada, around the Cabot Trail and PEI.
This year I chose New Hampshire and Maine. I drove 4 1/2 hours down to Moltonborough New Hampshire, parking my car at a friends cottage and jumped on my bike to go up into the beautiful White Mountains National Park.
Day 1: 68 kms - Moltonborough to Hancock Campground - White Mountains National Park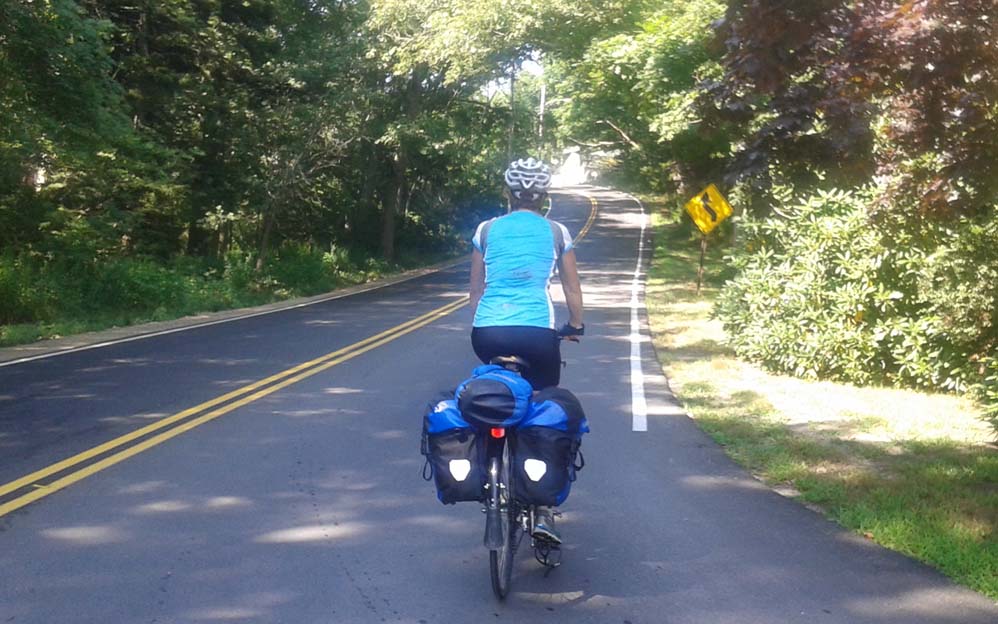 I was off, August 5th, 2016 at about 1 PM!

I had chosen a route that included a 13 km (8 mile) dirt road called Sandwich Notch. It wasn't until I was on the incredibly steep, rocky, bumpy road that I remembered cycling over Smugglers Notch in Vermont.  And that the word "Notch" meant that I was going through a notch in between 2 mountains. I had to get off my bike about 20 times to push it up some extremely steep grades, literally going over 2 mountains. It was incredibly hot and I was seriously questioning my sanity and the whole idea of bicycle touring!!

Too late to turn back, I pushed on knowing that there was a river at Hancock Campground I could submerge myself in at the end of the day.  I made it there by about 6:30 PM, cooked my dinner and fell asleep to the sound of the river close by.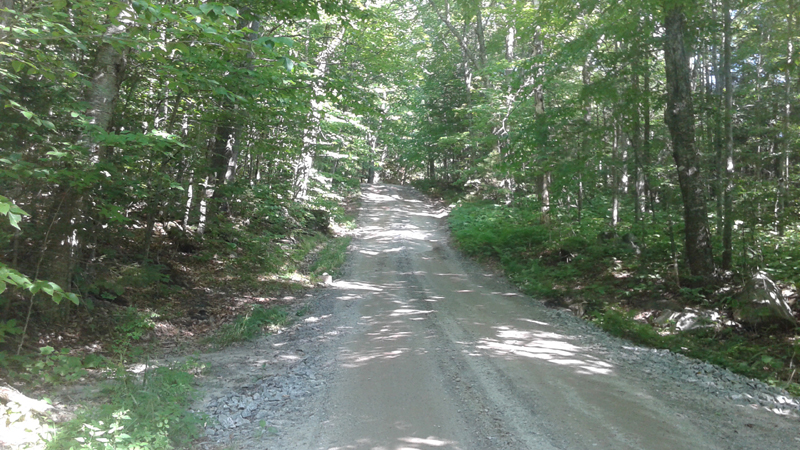 Day 2: 67 kms - Hancock Campground to Conway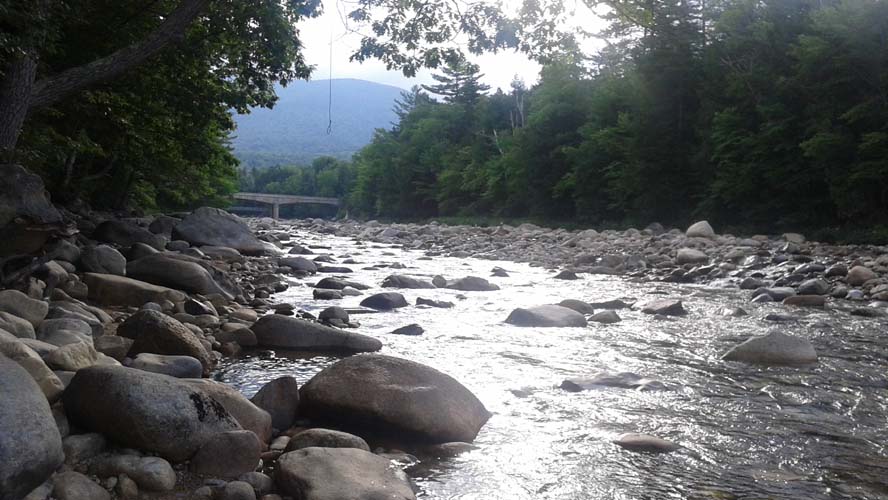 In the morning the sun was shining on the river beside my site.
All I had to do on day 2 was to cycle 67 kms through the park to Conway. I left my campground and almost immediately began to climb....8 kms up, 10... 12...wow! How long was this going to go on for I wondered?! I got to a lookout point thinking I must be at the top. Nope! I decided it was better that I hadn't previously known about the long climb as I had nothing to worry about the day before. Sometime, ignorance is bliss :)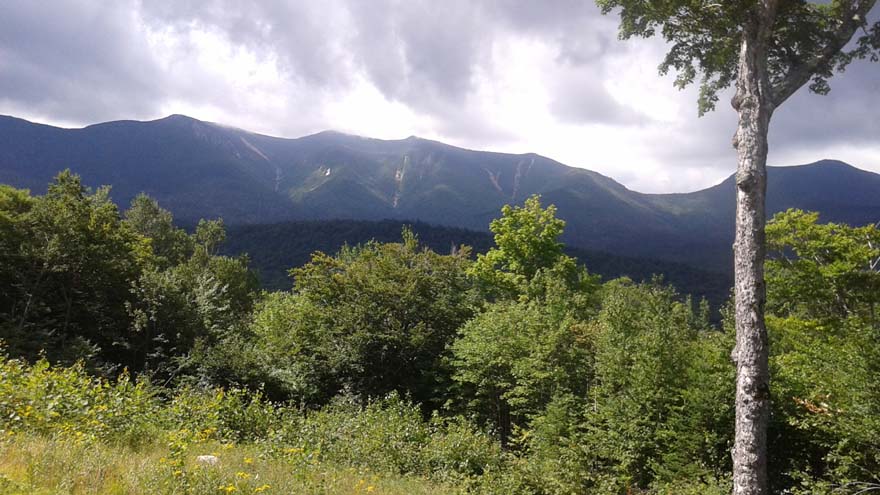 It was 14 kms of climbing before I reached the top of Kancamagus Pass. I was proud to have another cyclist on a road bike take my picture. (Note to self, check elevation on rides!)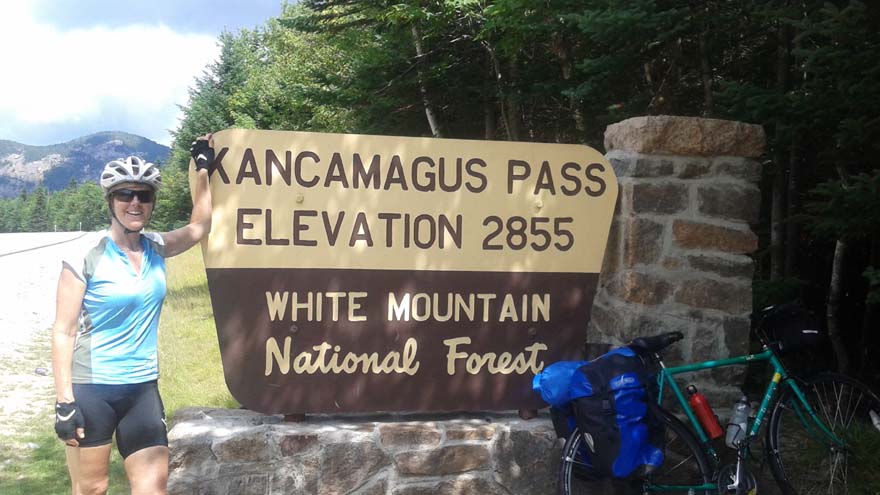 The down hill went on for over 30 kms! I stopped off at various lookouts, and some lovely little waterfalls.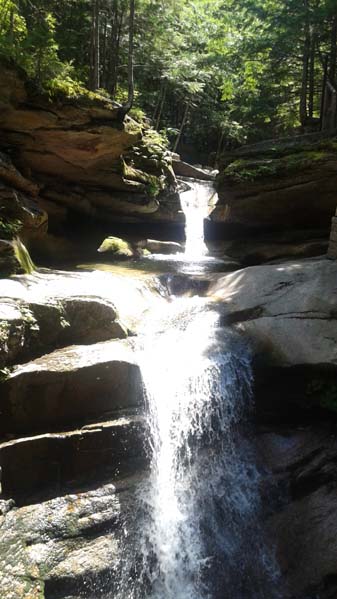 Such a beautiful sunny day, when I came across a place in the river wide enough to float down on the current and swim in, I quickly changed into my bathing suit and spent a few hours relaxing in this gorgeous spot. It was a perfect day!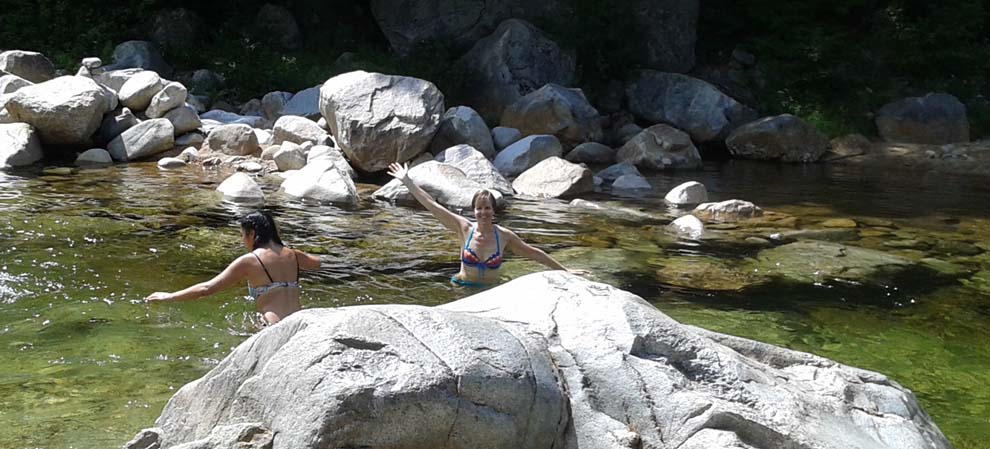 Day 3: 107 kms Conway to Scarborough Beach
I did some "couchsurfing" staying with Becky in Conway who told me her favorite beach was Scarborough.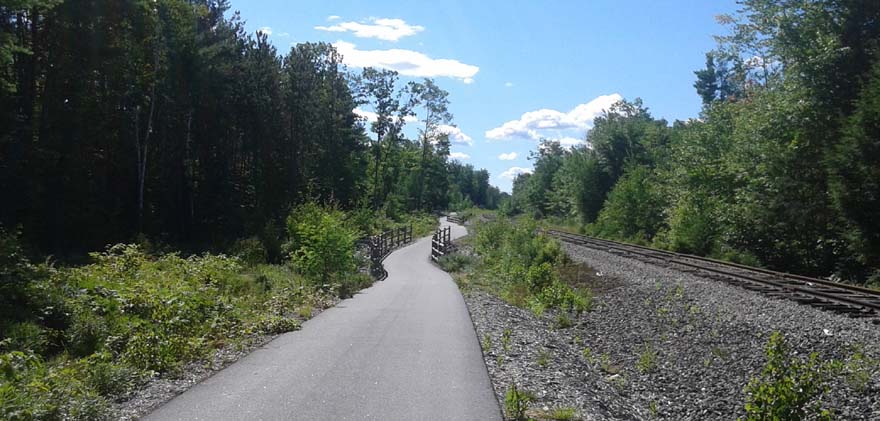 I decided to cycle all the way down there, and was so happy to be at the ocean!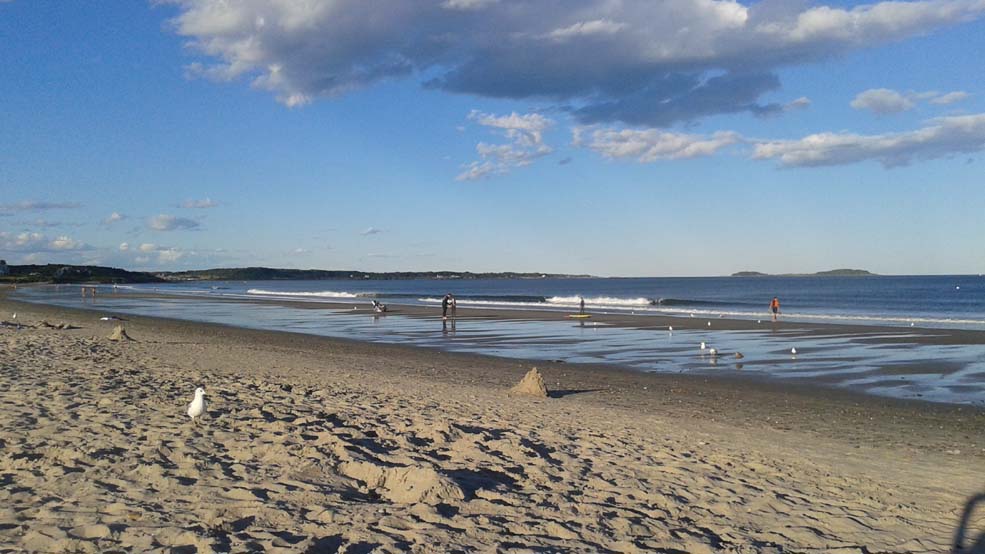 Day 4: 18 kms - A ride to Georgetown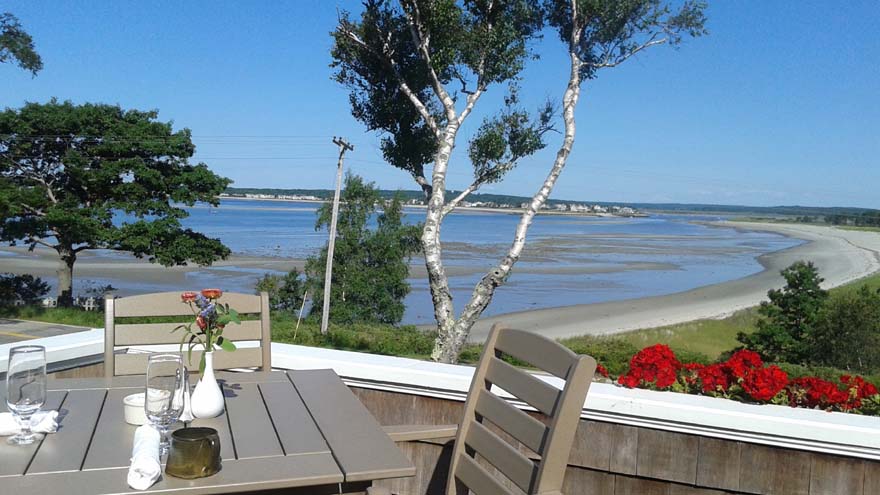 This was my view as I enjoyed breakfast at the Black Point Inn and spent the day resting on Scarborough Beach.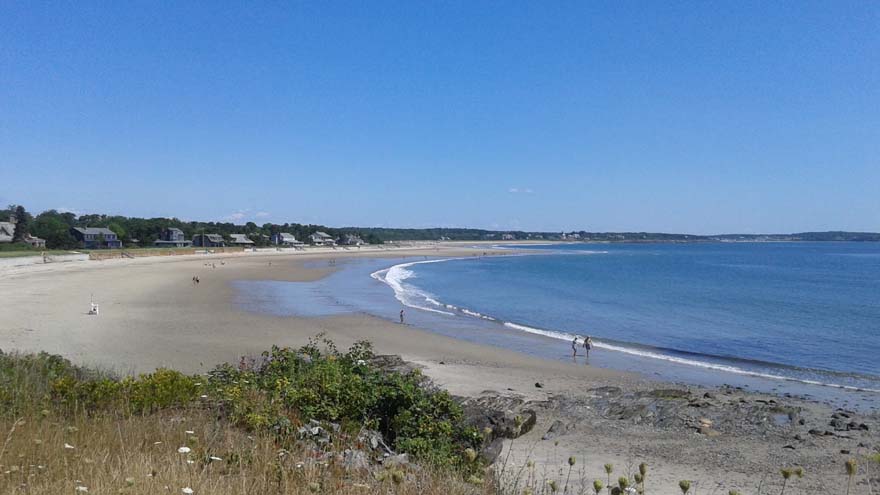 My warmshowers.org hosts, Nananda and Bob had told me that they were dropping their daughter at the airport in Portland and could pick me up close to there. Perfect! That saved me a 75 km ride up the coast. I met them at 6 PM and we drove to their house.
Warmshowers is a global community for cycle tourers, built on reciprocal hospitality. Members offer others traveling by bicycle a free place in their home to stay, bed, couch or place to pitch a tent, a "warmshower," which is always blissful after a long day on the bike, and often a meal. I have hosted 3 couples and 1 single person at my place so far.

Nananda a Bob had a separate apartment suite all for me! I stayed 2 nights. 

Day 5: 29 kms Georgetown and Reid State Park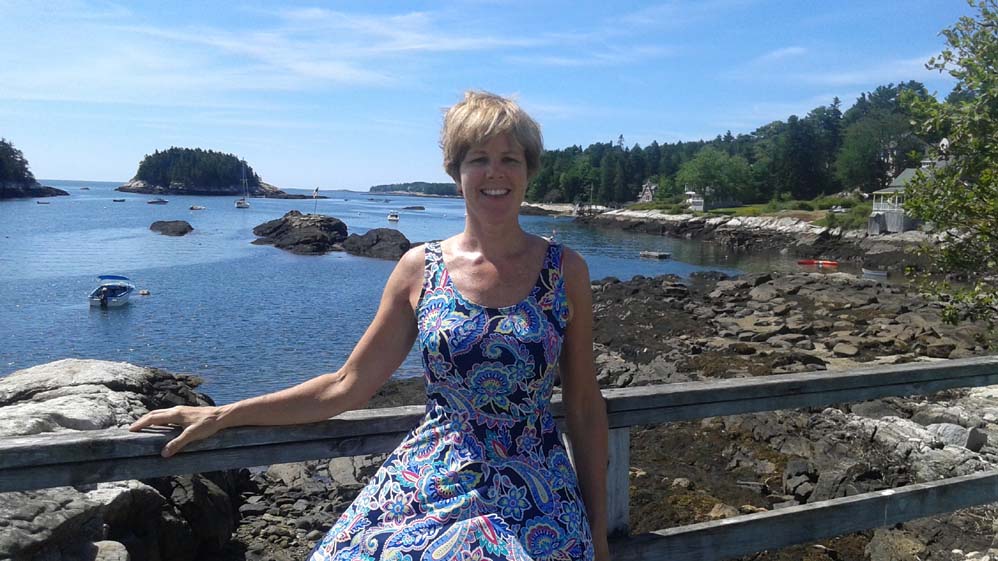 The wharf in Georgetown was so pretty, and then another relaxing day on the beach which was just 2 miles from their house.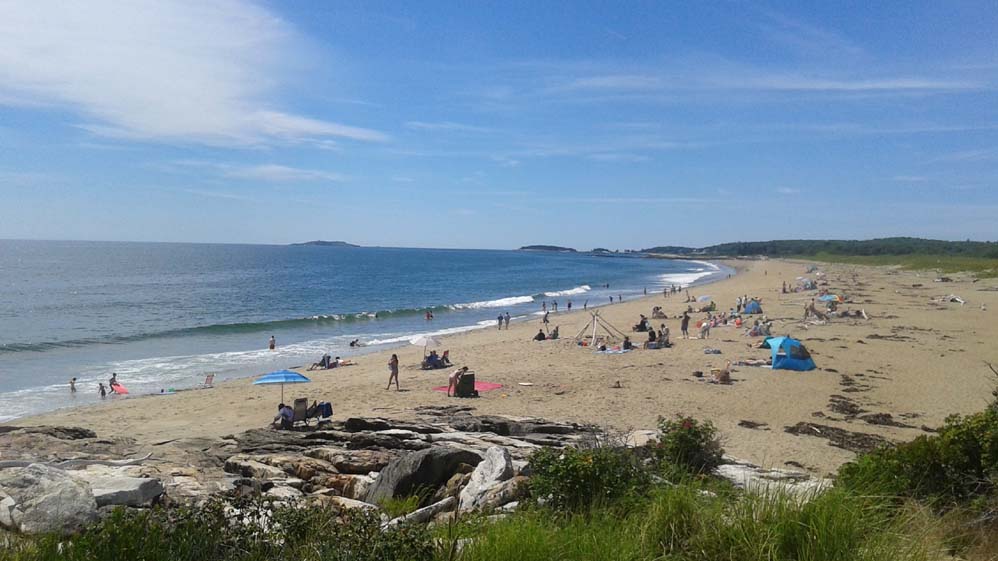 We had an early lobster dinner, and I went back down to the beach to watch the sunset and took this pic on my way back home.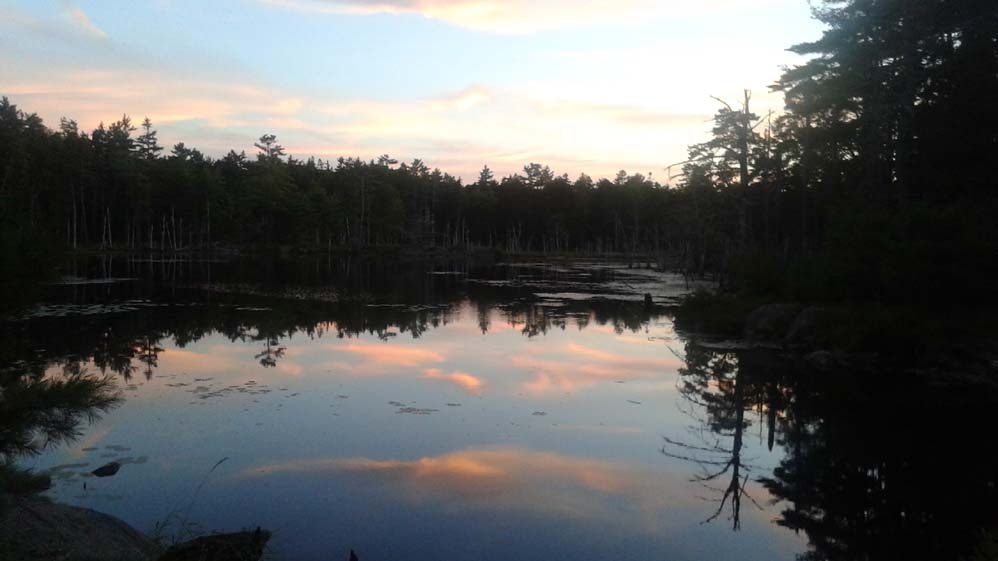 Day 6: 89 kms - Georgetown to Cape Elizabeth
I finally had my first day of rain (which was my only full day of rain!) It was a challenging day with a lot of stops, trying to navigate many turns through Bath, Brunswick, Freeport and Portland before finally arriving at Cape Elizabeth at 6 PM.

Day 7: 75 kms Cape Elizabeth to Kennebunk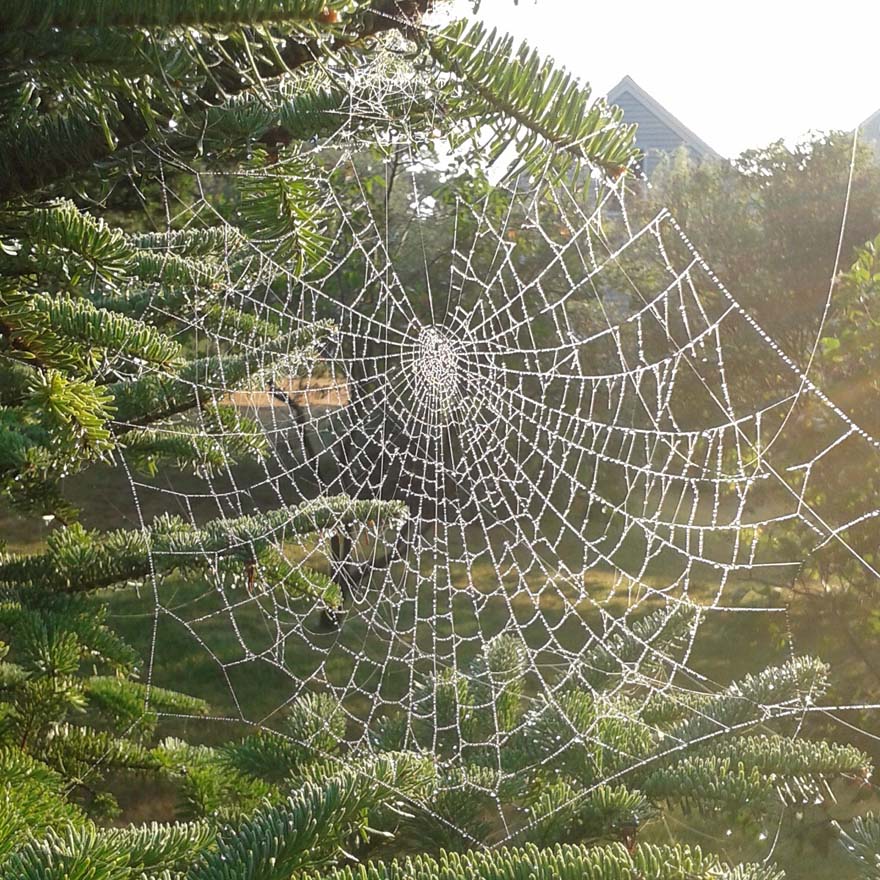 I could hear the ocean from where I was staying in Cape Elizabeth, and after the rain it was foggy the next morning.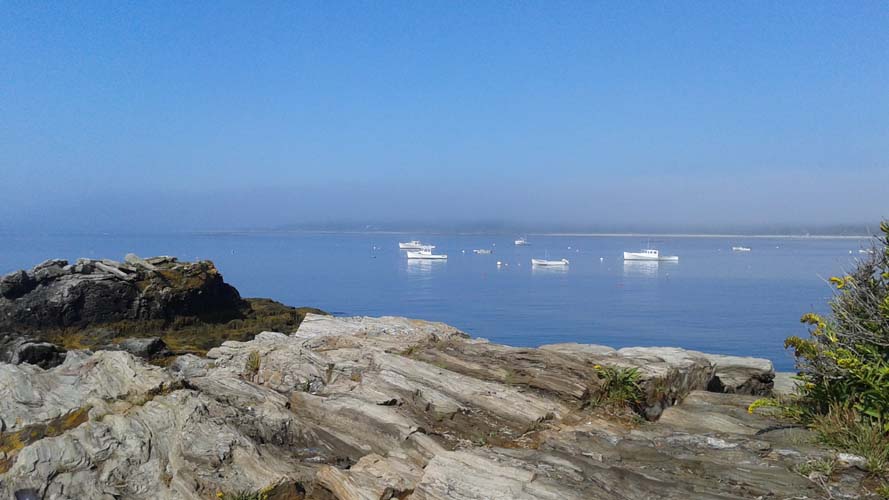 Another hot sunny day, I was happy to get to my favorite beach below, Goochs, in Kennebunk, where we used to vacation every summer when I was young.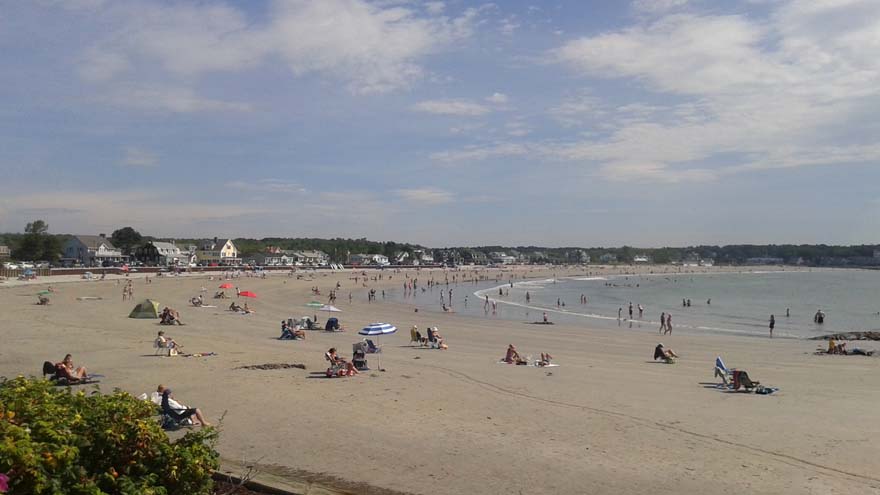 It was nice to have dinner in Kennebunkport.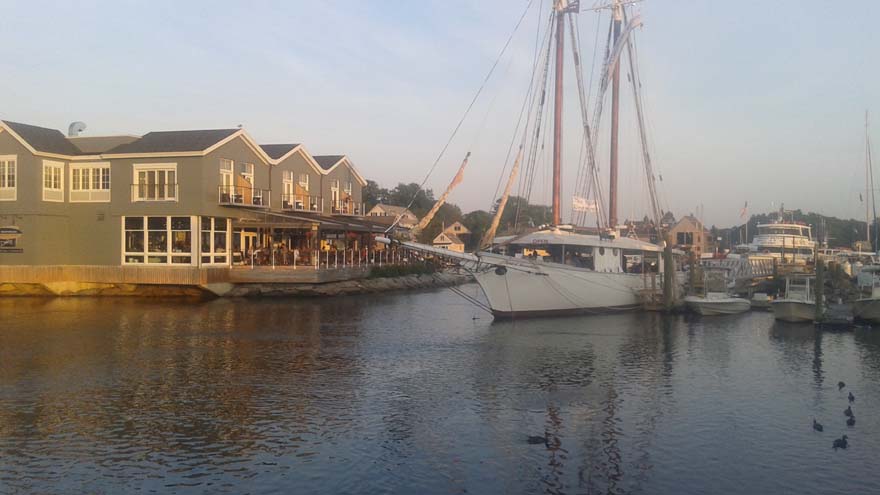 Day 8: 26 kms  - Beach day in Kennebunk
Stadig Campground charges only 5$ per day for a tent for people traveling by bicycle! Not bad when the average BNB in Kennebunk was about $150 U.S. and more.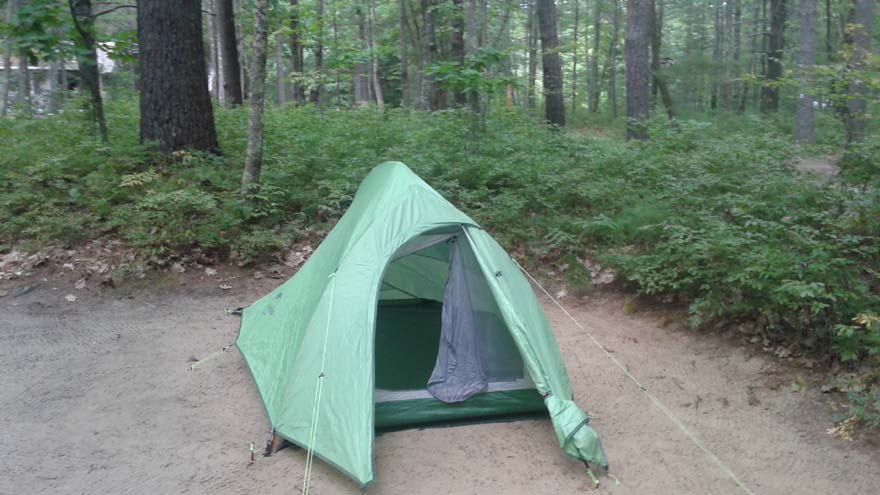 As soon as I got my tent up it rained really hard but not for long, perfect timing!

Day 9: 65 kms  Kennebunk to Acton Maine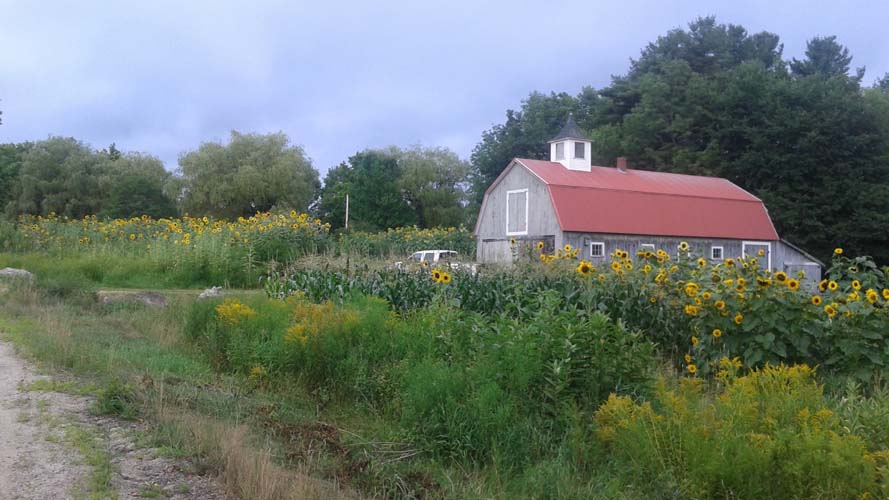 Time to start heading back up to my starting point! I was happy it was cloudy as I had absorbed more than enough sun with my long days on the beach! 

Day 10: 67 kms - Acton to Moltonborough last day of my bicycle tour vacation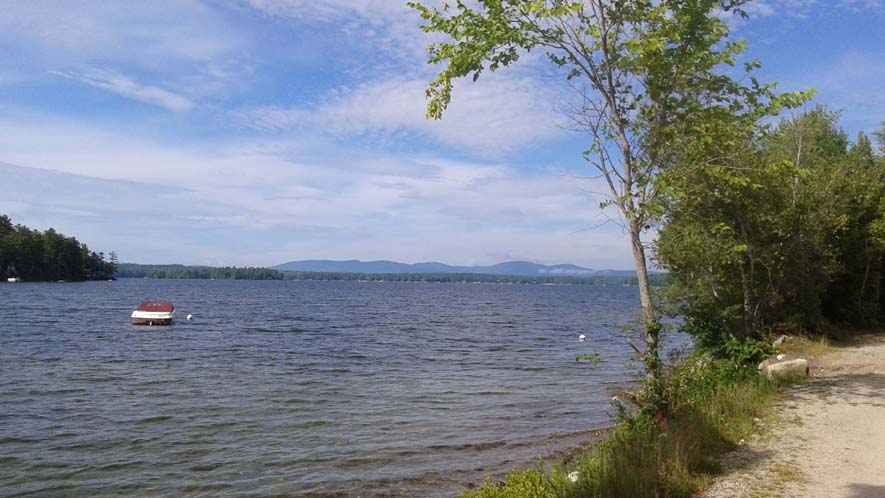 Another beautiful ride alongside lakes and through forests!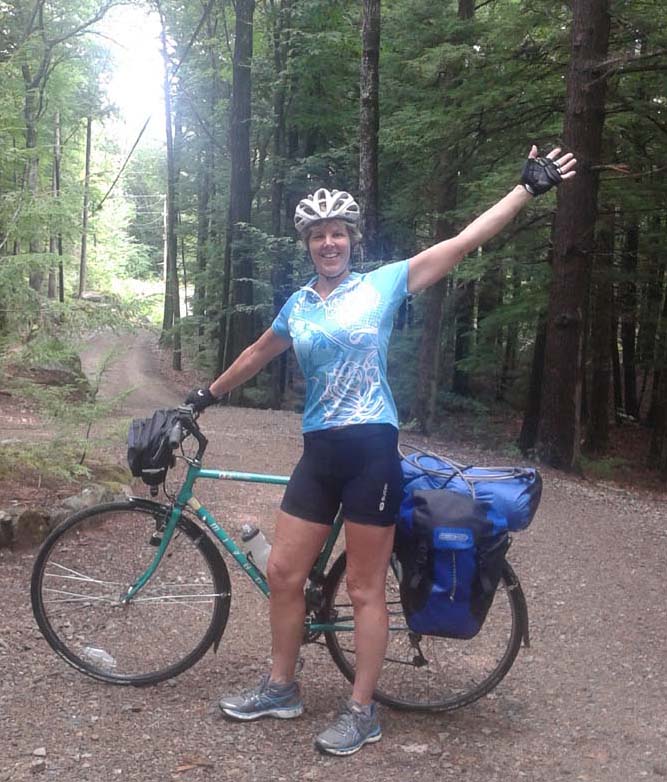 And I made it!!

Total Kms: 637 (396 miles)

Longest day: 107 kms (66 miles)
Weight of bike: 31 lbs
Weight of gear: about 35 lbs

3 nights camping
1 night couchsurfing
5 nights warmshowers.org with 4 hosts
Total cost of 10 day trip including gas to get there and back, $281 Cdn. ($218 U.S) (not including souvenirs :)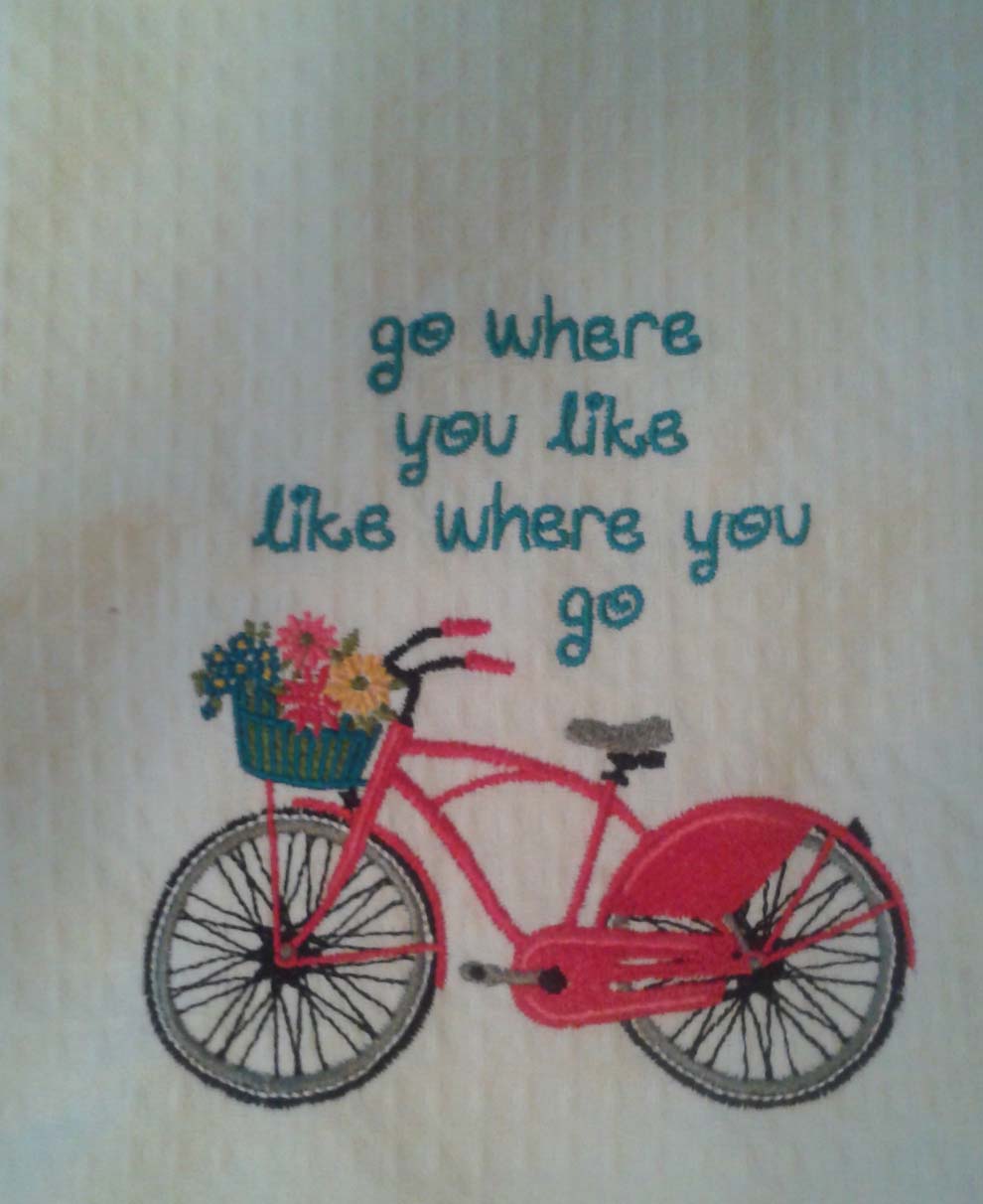 My souvenir dishtowel I bought in Kennebunk :)
Time to start planning the next trip!

Return from Bicycle Tour Vacation to Home Page
Read about my east coast bike tour here