Simple, Easy Trail Mix Recipe
This trail mix recipe is one of the best, easiest, healthy snacks. Chalk full of the most important vitamins, minerals and nutrients, it will keep you going through any long strenuous workout or tide you over until your next meal.

If you are looking to maintain healthy weight and stop sugar cravings this recipe can help. Increasing protein is the best way to decrease sugar cravings. If you are sugar sensitive make your batch with less dried fruit.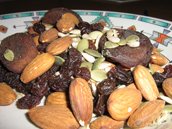 Almonds are the most nutritious of all nuts (peanuts are the least). Almonds are both alkalinizing, and mineralizing. All other nuts are acidifying to the body. They are high in protein and high in vitamin E, magnesium and manganese.
Dried Apricots are a good source of iron, vitamins A and C, potassium and beta carotene.
Raisins are a good source of iron, potassium and selenium.
Sunflower seeds are rich in vitamin E, essential fatty acids, amino acids, and minerals, including magnesium, potassium, zinc and calcium.
Pumpkin seeds are a great source of amino acids, zinc and other minerals as well as magnesium, phosphorus and manganese.

It is essential to ensure that all ingredients in your trail mix recipe are raw and organic. Organic dried apricots are a natural brown color. Bright orange dried apricots have been treated with sulfites. Non organic raisins are very high in pesticides. Whenever nuts or seeds are roasted at temperatures above 170F their fats break down, producing free radicals. All nuts and nut butters should be eaten raw. If it doesn't say raw on the jar they are roasted. 
Trail Mix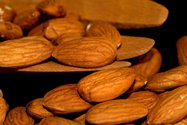 1/3 cup Almonds
1/4 cup Dried apricots
1/3 cup Raisins
1/8 cup Sunflower seeds
1/8 cup Pumpkin seeds 


Please note, if you are trying to lose weight do not eat too much trail mix as nuts are high in fat, even if it is a good fat. 

You can adjust the proportions as you like, and add in other nuts or dried fruit. Many recipes call for the addition of packaged cereals or chocolate, candy, etc. There is no need to ruin such a super food - a healthy snack like this - with unhealthy ingredients. Enjoy!
Return From Trail Mix Recipe to Healthy Snacks 

Return From Trail Mix Recipe to Home Page