Day 6: Grande Vallée to L'Anse au Griffon - My chain breaks and on to Griffon Adventure Inn! 74k ms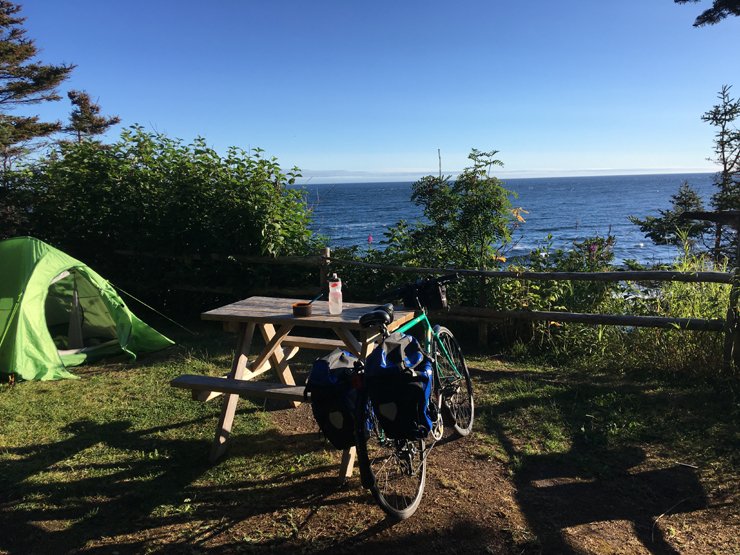 It was hard to leave my beautiful campsite with ocean views, but I set out feeling so grateful for yet another beautiful sunny day along the coast and strong tail winds.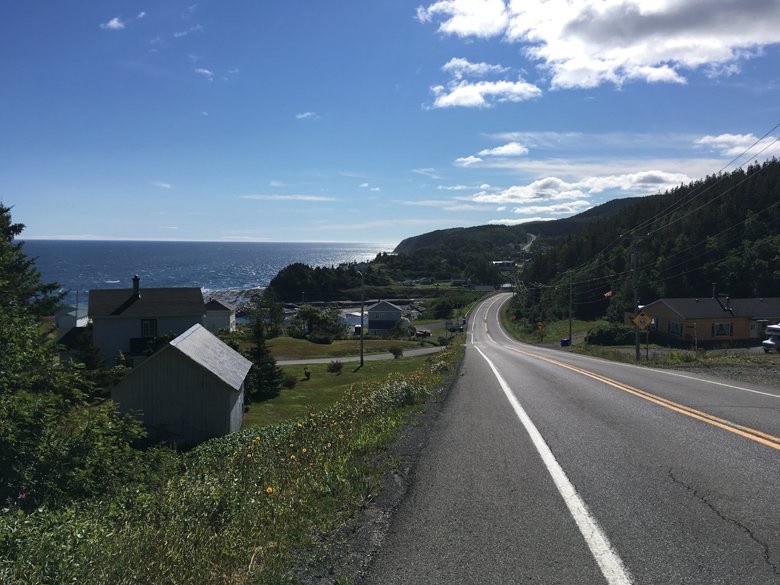 After a while the road turned inwards and I rode alone through hills and by lakes with no towns for miles. A few people had warned me that the most brutal hills of my tour would happen after L'Anse-à-Valleau. After 61 kms I came to the first huge, steep hill and started to climb. About one thrid of the way up, I thought, "Wow, this is such a huge strain on my chain, it'll probably break." and that's when my chain broke!!!
A woman "happened" to be walking down the other side, so I called her over and asked her if she knew where I could get it repaired. (I had nothing to repair it.) She said there was a town 5 kms away with a garage, which might not be able to help me, but that the town after that, about another 12 kms away, had a sports store that could probably help me out. I found it hard to believe that a sports store would have a bike chain. I was pretty upset, wondering what I would do, but started repeating my mantra, "Everything is always working out for me," and tried to stay positive.
We took off the broken chain and I was sure I needed a new one as it was old. I walked up to the top of the hill, got on the bike, coasted down, walked a bit and tried hitch hiking a little. I went up and down another hill and made it to the garage who could not help me out. I asked for a piece of cardboard and made a sign that said, "En Panne" (broken down.)  I didn't want people to think I was lazy or tired.
I put my thumb out again, with the sign, and about 20 minutes later a guy in a mid sized truck, working for the city of Gaspe, picked me up. I thought I'd have to take all my bags off my bike, as .t was too heavy (about 65 pounds) to lift into the back of the truck. But he pulled down a ramp and we rolled it right in! Perfect!! 
He drove me over the 2nd and biggest, crazy steep hill of the entire tour and showed me where all the cyclists stopped to take pictures of the steep descent and crazy long steep climb back up. He dropped me off right at the door of the Sports store in Rivière au Renard which had a full bicycle repair shop in the back!! "Evrything is always working out for me!"
This could've happened 100 or 200 kms away from the nearest bike store! I couldn't believe my good fortune! 
The owner was worried my old gears and new chain might not work well together, but after a test drive he said everything was perfect and I was on my way.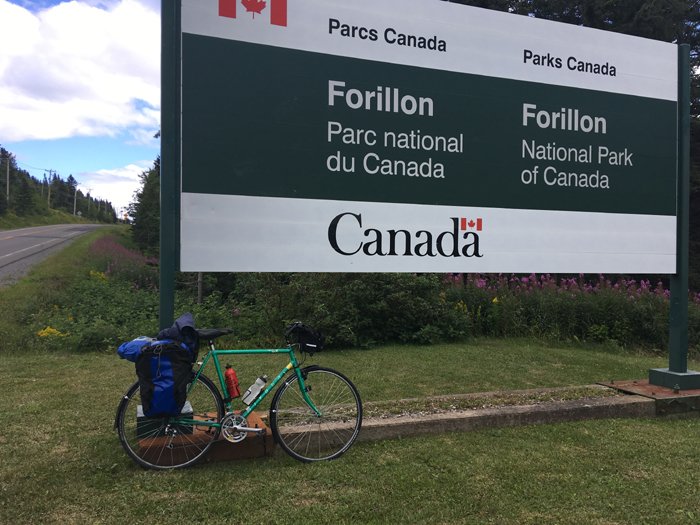 I bought some food as I planned to spend 3 nights at Auberge Griffon Aventure, - Griffon Adventure Inn, close to Forillon National Park.