Gaspe Bicycle Tour 
This is my Gaspe bicycle Tour - part 2, if you missed part one you can catch it here.
As I mentioned, I've done 3 solo bicycle tours and this was the best, mostly because of the gorgeous scenery and the super friendly people. 
My mantra for my trip was from a clip by Abraham-Hicks a friend suggested a few weeks earlier, "Everything is Always working out for me!"
Day 6: Grande Vallée to L'Anse au Griffon - My chain breaks and on to Griffon Adventure Inn! 74k ms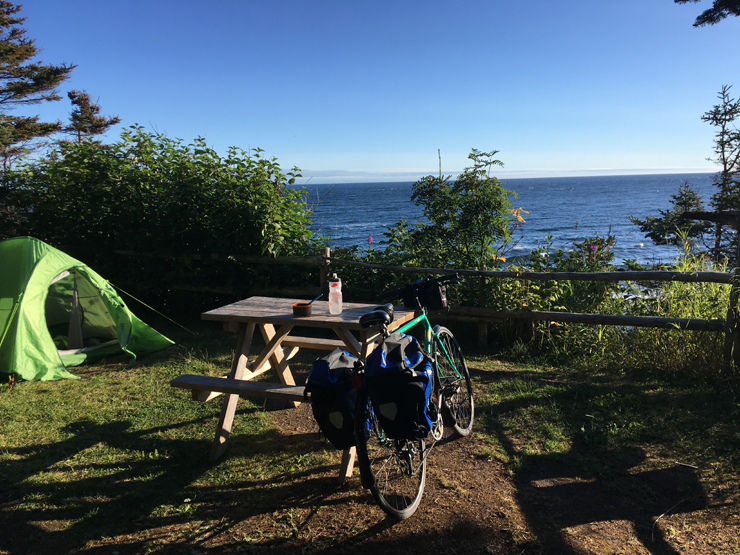 It was hard to leave my beautiful campsite with ocean views, but I set out feeling so grateful for yet another beautiful sunny day along the coast and strong tail winds.
After a while the road turned inwards and I rode alone through hills and by lakes with no towns for miles. A few people had warned me that the most brutal hills of my tour would happen after L'Anse-à-Valleau. After 61 kms I came to the first huge, steep hill and started to climb. About one thrid of the way up, I thought, "Wow, this is such a huge strain on my chain, it'll probably break." and that's when my chain broke!!!
A woman "happened" to be walking down the other side, so I called her over and asked her if she knew where I could get it repaired. (I had nothing to repair it.) She said there was a town 5 kms away with a garage, which might not be able to help me, but that the town after that, about another 12 kms away, had a sports store that could probably help me out. I found it hard to believe that a sports store would have a bike chain. I was pretty upset, wondering what I would do, but started repeating my mantra, "Everything is always working out for me," and tried to stay positive.
We took off the broken chain and I was sure I needed a new one as it was old. I walked up to the top of the hill, got on the bike, coasted down, walked a bit and tried hitch hiking a little. I went up and down another hill and made it to the garage who could not help me out. I asked for a piece of cardboard and made a sign that said, "En Panne" (broken down.)  I didn't want people to think I was lazy or tired.
I put my thumb out again, with the sign, and about 20 minutes later a guy in a mid sized truck, working for the city of Gaspe, picked me up. I thought I'd have to take all my bags off my bike, as .t was too heavy (about 65 pounds) to lift into the back of the truck. But he pulled down a ramp and we rolled it right in! Perfect!! 
He drove me over the 2nd and biggest, crazy steep hill of the entire tour and showed me where all the cyclists stopped to take pictures of the steep descent and crazy long steep climb back up. He dropped me off right at the door of the Sports store in Rivière au Renard which had a full bicycle repair shop in the back!! "Evrything is always working out for me!"
This could've happened 100 or 200 kms away from the nearest bike store! I couldn't believe my good fortune! 
The owner was worried my old gears and new chain might not work well together, but after a test drive he said everything was perfect and I was on my way. 
I bought some food as I planned to spend 3 nights at Auberge Griffon Aventure, - Griffon Adventure Inn, close to Forillon National Park.
Day 7: Griffon Adventures, Yoga on the beach and a hike in Forillon Park
I had called Griffon Adventure Inn while planning my trip and knew that it had:
a hostel with dorm rooms
camping
cabins
a bar that stayed open until 3 AM every night
one bonfire for everyone, every night
Big terrasse overlooking the ocean
games room 
kitchen
yoga on the beach
sea kayaking
fishing and
other activities 
I knew it would cater to 20 somethings wanting to party, but was told there were also families and people of all ages.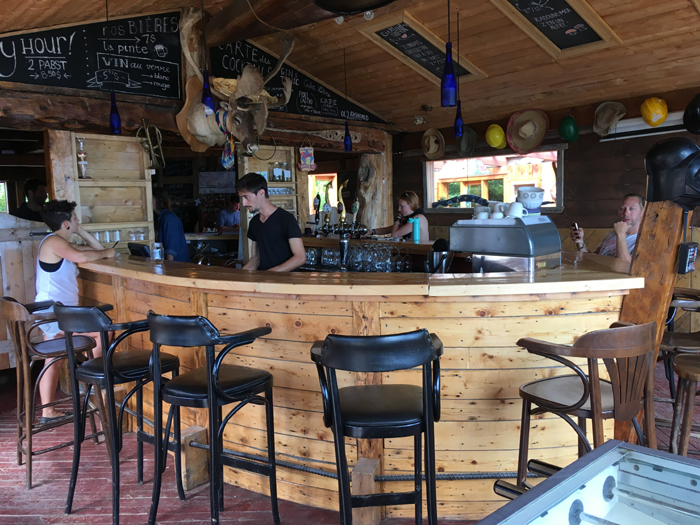 The bar served drinks called: Je n'ai pas encore vue une baleine, and, J'ai une ami qui a vu un ours. :) I haven't seen a whale yet, and I have a friend who saw a bear! Ha ha ha!
The owners had used wood from a 100 year old barn for the main building, it was warm, cozy and welcoming, really nice!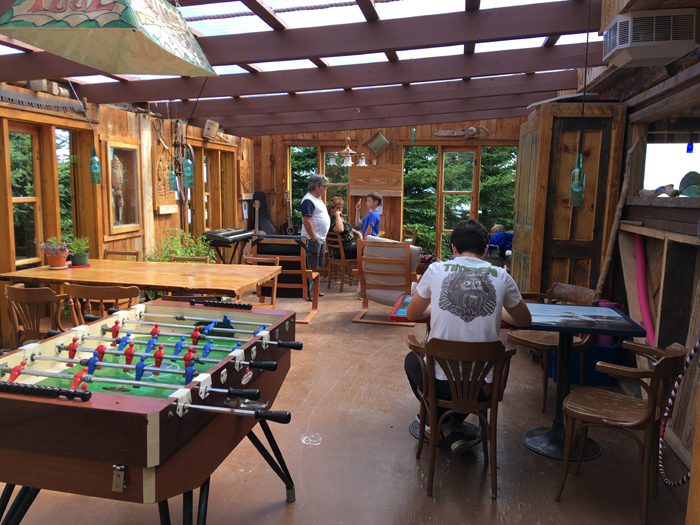 Games room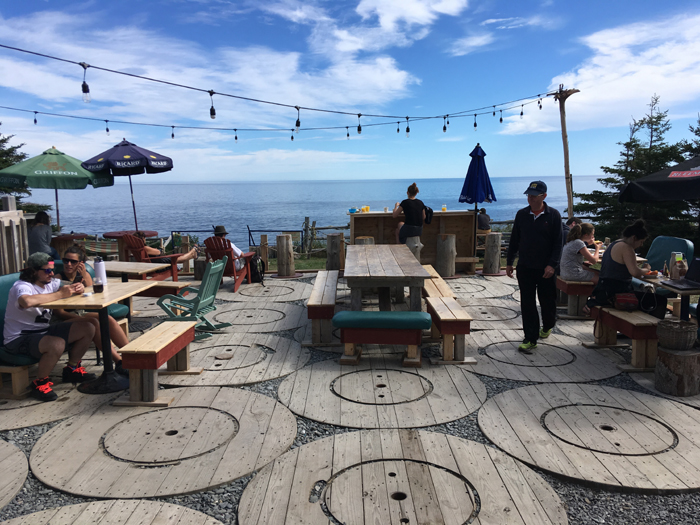 Terrasse overlooking the ocean!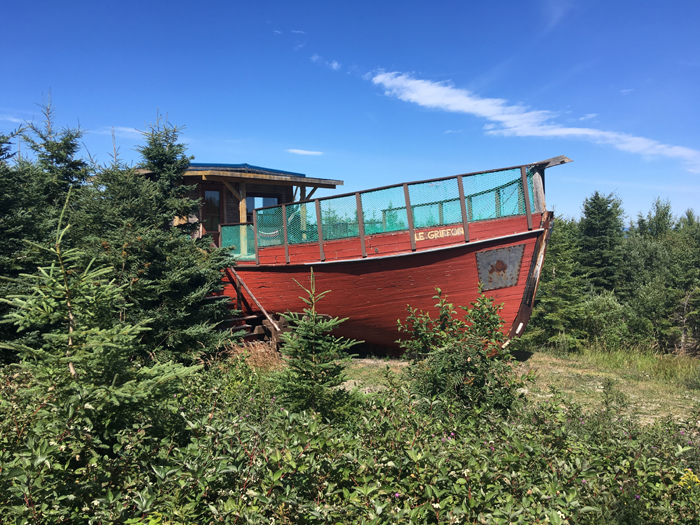 You can even stay in this boat at Griffon Adventure Inn.
From the staircase going down to the beach.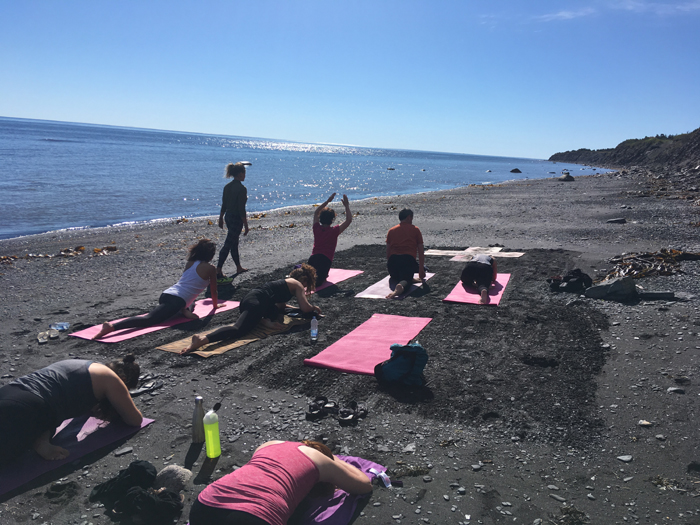 8 AM yoga class! Although the nights were cool, between 9 to 15 C, the mornings warmed up quickly with the sun.
Yoga on the beach with the sound of the waves and smell of the ocean, wow!! I've died and gone to heaven.... Virginie, the instructor was also the bartender that night :) 
After yoga, I rode my bike 16 kms to the parc and did a short hike up to the lookout on Mont Saint Alban.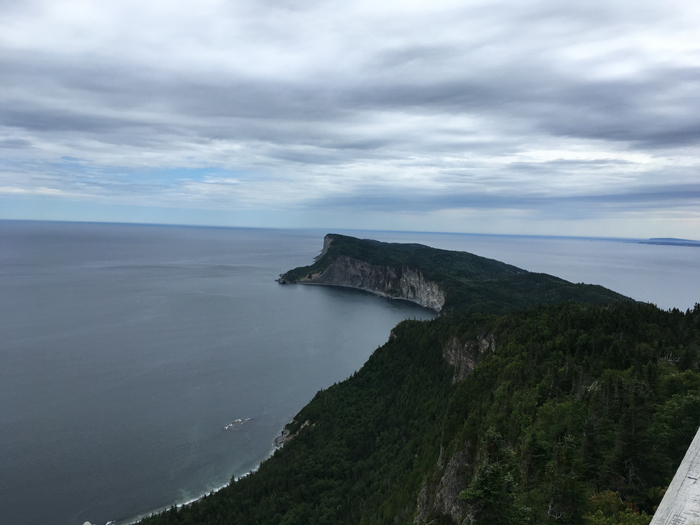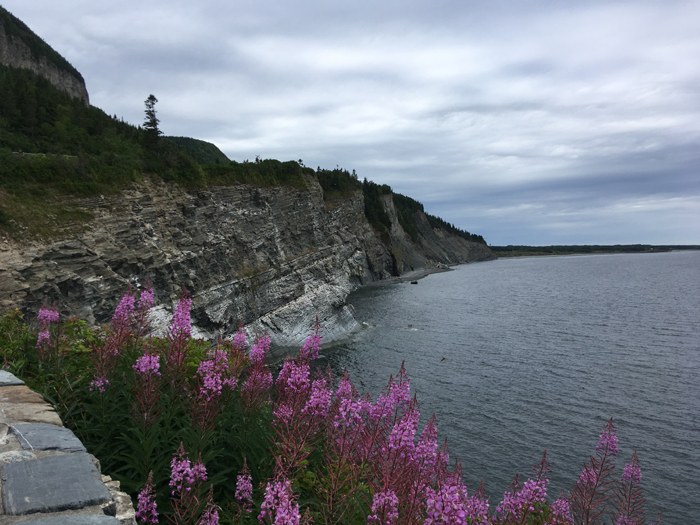 Day 8: Longer hike out to Land's End. 
Sun coming up over the ocean around 5 AM.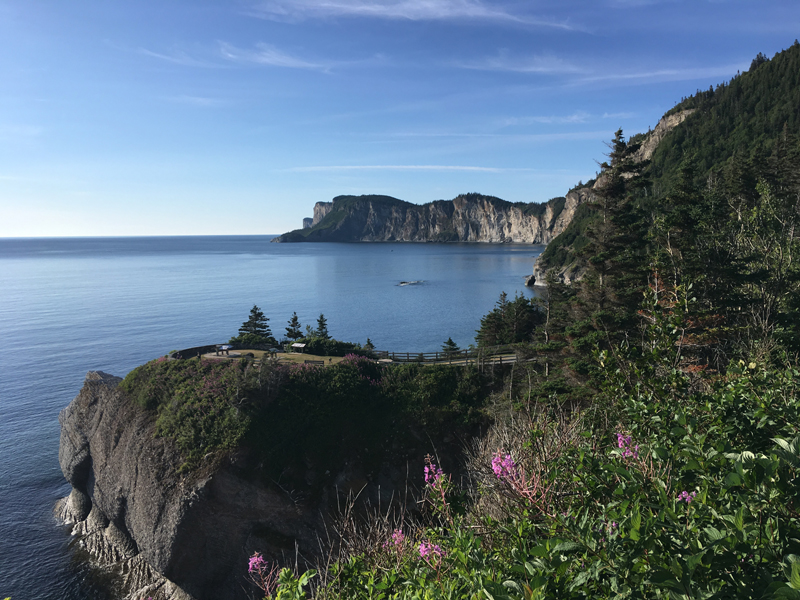 I woke up around 5 so I decided to get up and get an early start to my hike. I left at 6,  made it to Parc Forillon by 7 and grabbed my favorite pic of my trip above - Cap Bon Ami and Land's end. It was a perfect day, and so nice to be out before any one else! For my hike I crossed over to the other side of the parc and followed the coast line out to the end of the point in the distance. 
I was so excited to see and hear my first whale and also some seals along this path! The out and back hike from Cap Bon Ami  was 20 kms, and not difficult, but I did hitch hike a short piece on the way back, just 4 kms along the road to save some energy.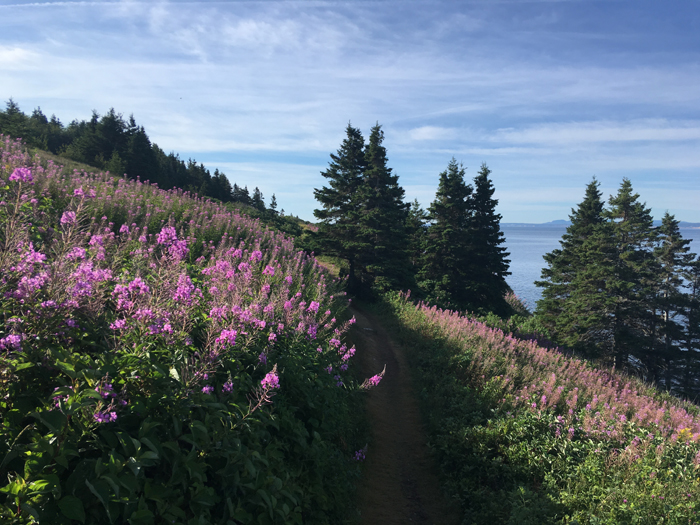 There was no one else on the path so early in the morning.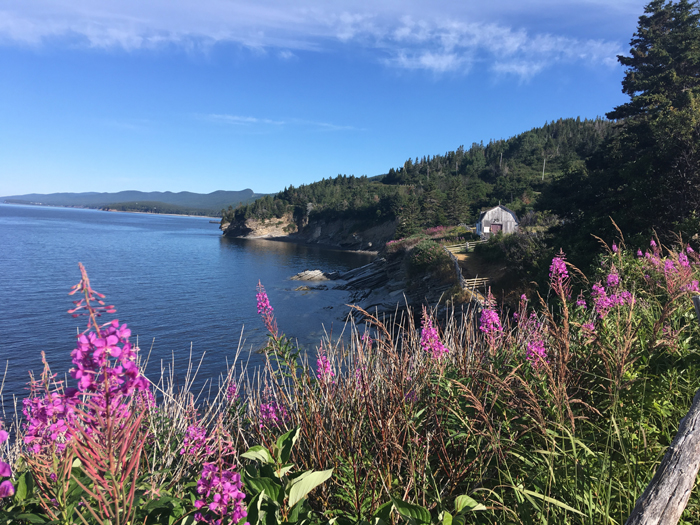 Gorgeous views!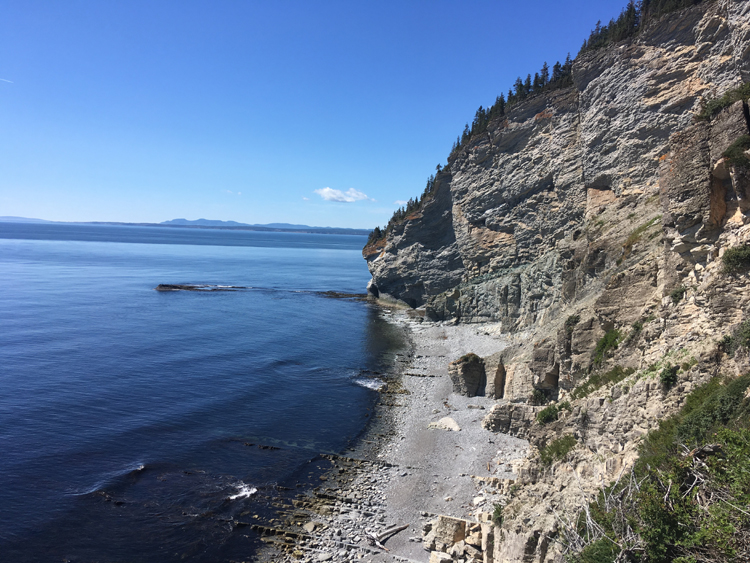 At Land's end aka Cap Gaspé.
I got back to Griffon Aventure and later sat at the campfire, enjoying the guitar playing.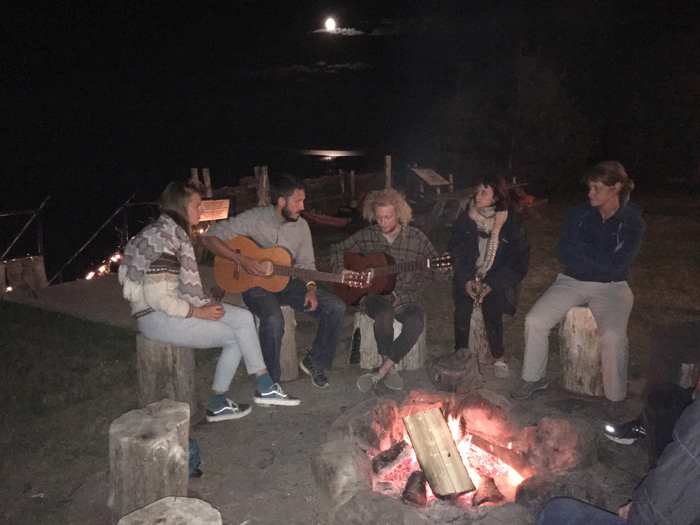 The guitarists were really good and it was so pretty with the moon shining on the ocean. Perfect end to another absolutely fabulous day!
Day 9: L'Anse au Griffon to L'anse à Brillant 74 kms
After another yoga class on the beach it was time to leave. There was a couple sitting in Adirondack chairs, facing the ocean, reading books and I thought, Wow! It would've been So nice to have a  day of rest!  But I had to move on, and I was happy to be able to fit in my hikes and yoga and everything I wanted to do.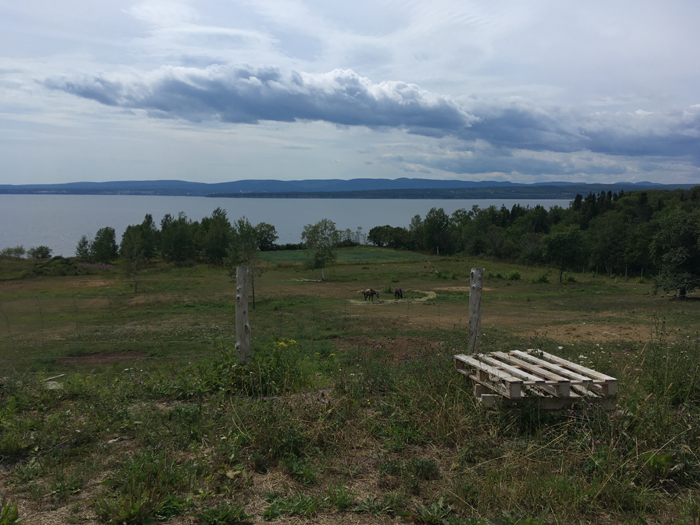 I preferred my pic-nic spot with the horses down below and ocean, rather than the not so beautiful, more generic pic-nic areas.
I went through the parc and around the bay. When I passed a man at his mailbox, who seemed to be about 90, I waved and he gave me the thumbs up, sweet! 
The only part of the whole tour that was not much fun was the few kms going into Gaspé, where the shoulder was very narrow, with a steep cement ditch on the side and cars going by fast. After the bay there was a bit of a head wind. I made it to my warnshowers.org host's home around 5.
I miscalculated how many days I had to get back... woops! 
When on vacation one tends to forget what day it is, etc, right? I was thinking I had 3 days to get back to Maria, which was 230 kms away. But around 4 PM on Friday, it hit me..., oh no,  I only had 2 days!! Uh oh!! I decided to get up at 5, be on the road at 6 and ride 134 kms Saturday to the next campground and 95 Sunday, I had to get back to work for Tuesday.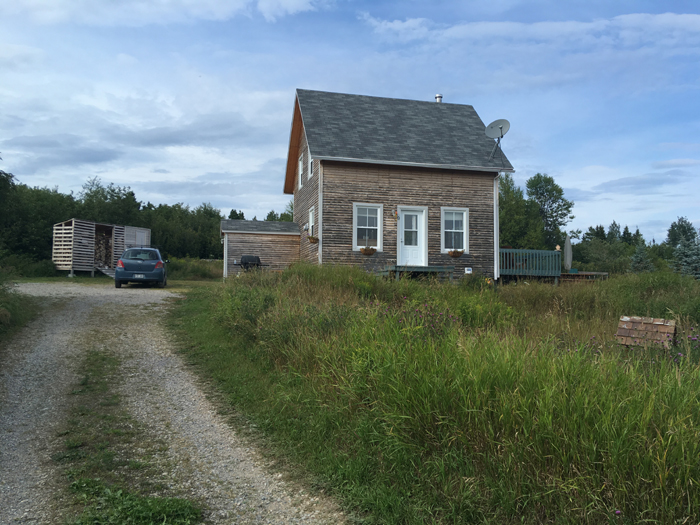 My warmshowers.org hosts were out at the Gaspé music festival but they left the door open and a note to make myself at home. Such a great organization! I made my dinner and had a shower, so nice!
Jean, my host had said I could sleep in my tent in the backyard, their house was small. I was looking forward to having no one around. At Auberge Griffon the tents were quite close together as I hadn't reserved and was in the "backup" camping area.
I was still awake around 12:30 when a car pulled up, and then another and another and yet another. People started whispering around me, "Yes, it's like couchsurfing, but only for cyclists." And then tents started to go up....WT....?  I poked my head out and Jean said he had bumped into his family and friends ( 3 families) at the music festival and invited them back to camp at his house! 
Day 10 L'Anse à Brillant to Saint Godefroie - 134 kms
I was on my bike at 6 AM as planned as I had a huge day ahead of me, including going over the hills at Percé. It was actually wonderful and quiet to be on the road so early without any cars. I decided to push my bike over this train bridge to avoid going all the way around the bay. (The train no longer runs to Gaspé)  It was pretty scary as I could see through to the river below! But no place wide enough to fall through.
Unfortunately, the path on the other side was very sandy so I had to push my bike quite a long way off and on, before finally begin able to get back on. I might've saved kms but not time!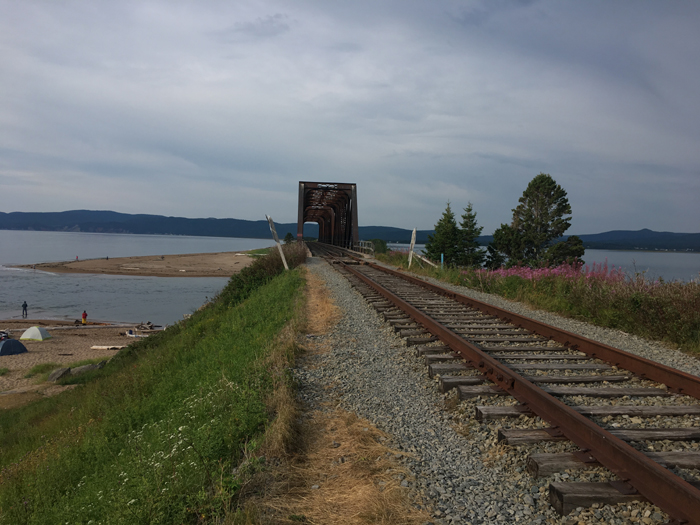 The sandy/dirt road finally turned to pavement... kind of!
I stopped and joined 2 women in their late 20s for breakfast at a pic-nic place just before Percé. They were very excited to talk to me as they had also done cycle touring, but this vacation they were traveling in and sleeping in their van. They told me that I was creating wonderful memories that would last my lifetime. :)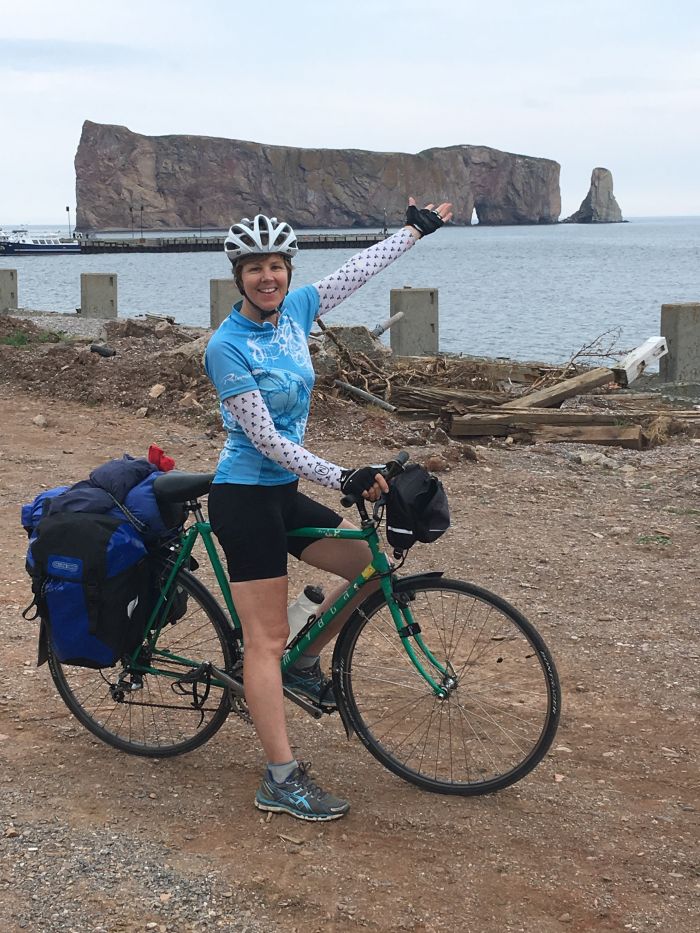 I made it to Parcé Rock!! The town of Percé was like Niagra Falls, very overly touristy, I got my pic and kept on going :)
134 km day merited some chips and a large local beer! I arrived at 4:30, feeling exhausted, but I did it!
Day 11: Saint Godefroie back to Maria - 95 kms 
The sun came out again for my last day along the Baie des chaleurs. 
Nothing better than a bike path beside the ocean!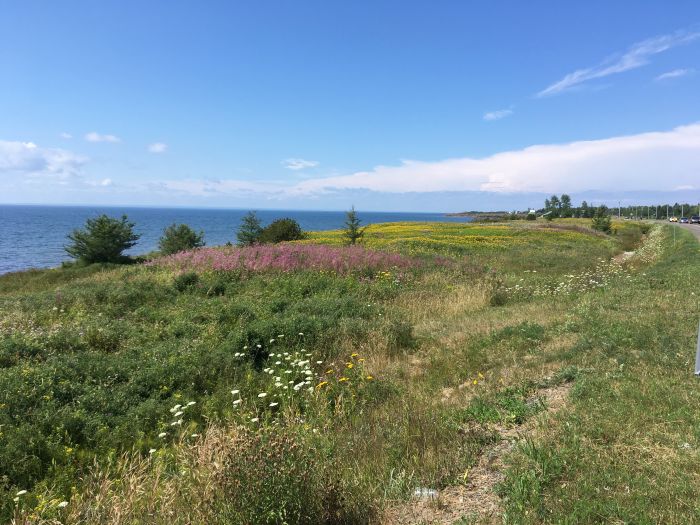 Shining waters, Baie des Chaleurs.
Tour complete, with little Edgar in the back.
  I did it! I was quite tired as it's not always easy to sleep soundly in a  tent, And it had been quite a fun filled, very active adventure, but I was proud and so happy with the amazing trip I had completed! 
Total tour: 650 kms circuit - total kms 710
Maximum speed 66.7 kms! 
11 days (+ 2 days driving there and back.)
Number of cycling days: 7
Extra kms, about 60, to go out and back into Forillon Park for hiking from Griffon Adventure Inn (16 kms each way)
Camping: 9 nights, and warmshowers.org: 3 nights.
Hikes: 
Tour de Mont Albert in Parc National de la Gaspesie -17 kms
Mont St Alban lookout and Cap Bon Amie in Forillon park 4 kms
Over to Grand Grave and out to Cap Gaspé ( Land's End) and back 20 kms
  Costs:
Gas: $131
Accommodation: $143 (camping) 
Food: $197 (and a few beers :)
Misc: $75 (chain, yoga & renting hiking poles)
Total: $546
Return from Gaspé Bicycle Tour to Home Page