Day 1: Maria to Parc National de la Gaspésie - 111 kms
Charles and Audrey's (my warmshowers.org hosts) home in Maria.
The drive to Maria from Montreal was about 10 hours. My Warmshowers.org hosts, Audrey and Charles live in a big house built in 1900, with their cute son Edgar, 14 months. They were so warm and friendly and they had agreed to let me park my car there and stay over my first and last night. 
My first day was a big day, 111 kms, going up into the Appalachian mountains in Gaspesie National Parc where I planned to spend 3 nights. I had chosen to do the circuit clockwise as I had read how strong the winds were on the north shore and wanted to make sure they would be at my back!
I started with a very gradual climb following the Cascapedia River, with much bigger climbs towards the end of the day. 
I was so excited, that even though I had a nice bedroom in my host's house, I hardly slept. That combined with the big drive the day before and being very busy working and preparing before I left, I was pretty tired. 
I knew that the Parc sold some basic food staples but no fruits and vegetables, so my bags were quite heavy, with veggies and some fruits to last me 3 days, plus a lot of trail mix, home made granola and power bars etc. 
I was so pumped to finally be on my way at 8:30, a beautiful, warm, sunny day! 
Along the Cascapedia River
At 10:00 AM a motorcycle went by and gave me the thumbs up, which had me feeling a little choked up. Only 2 hours into my trip and already I was being encouraged and supported, that felt great!! And this was certainly a sign of things to come. 
Perfect pic-nic spot, unfortunately, the black flies thought so too! :(
Two women on bikes decided to pic-nic here too. They had done cycle touring together in the past and we had fun sharing stories. The road was pretty quiet, with very few cars and just the occasional fishermen. 
Big climbs into the mountains.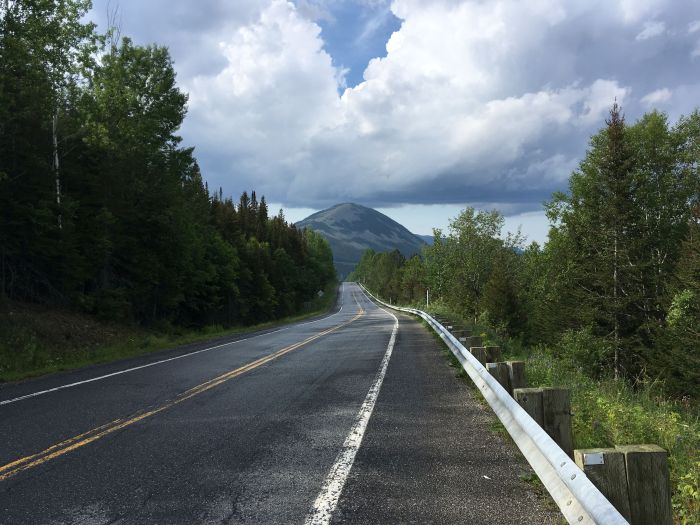 One small rain cloud went over me later in the day, but it was simply a refreshing break on a hot day. After traveling 72 kms I climbed over some pretty big mountains for about 20 kms, before heading back down into the park.  I arrived around 5:00 in the afternoon. 
After a shower and dinner, I found out that my brand new Thermarest self inflating mattress had a leak! Oh no! I imagined I might have to sleep on the ground for almost 2 weeks! I managed to find the small slit and repair it with a  small patch I had brought along for patching inner tubes. It worked perfectly! Saved, and very grateful for my friend Eric, who had suggested a few years ago that I bring along the tiny patch kit on my bike trips