Treating Asthma Naturally - 
Your Asthma Natural Cure
Treating asthma naturally is possible. While conventional medicine is able to help alleviate your symptoms, here are some asthma treatment guidelines that will help you find your asthma natural cure.
Our lungs are made of a sponge-like tissue that has an enormous capacity for absorption. Mucous, free radicals, toxins and air pollution block and harden these spongy tissues. This hardening induces emphysema and asthma and results in frequent respiratory infections. Studies show that the underlying inflammation never goes away unless the lungs are healed naturally! Traditional medicine has no cure.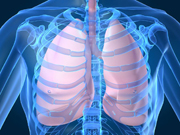 Asthma treatment guidelines:
It is essential to keep all pathways of elimination free, unobstructed and working optimally. 

We have 5 pathways of elimination:
The colon
The lungs
The kidneys
The skin
The liver
If you are constipated this makes the other organs of elimination work harder, especially the lungs. It results in irritation and leads to allergic reactions, including asthma. 

Using asthma meds, such as inhalers with cortisone, sends a message to the adrenal glands to stop working. The cortisone that would normally be produced by the adrenals is now already in the blood.
Asthma is a spasm which spreads through the bronchial tubes, which are reacting to a foreign substance that isn't being metabolized by the body. 

Some causes of asthma include:
A strong emotion
A conflict
Physical exercise
An allergic reaction
Asthma, eczema and psoriasis often have the same causes:
Toxins, such as:
Refined sugar
Gluten that is not being fully digested
Proteins that are not being fully digested
The body is trying to rid itself of these toxins through the lungs and the skin.