PMS D for Drama and Depression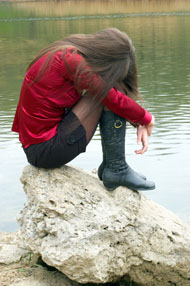 This can be accompanied by insomnia, confusion, forgetfulness, high blood pressure and problems with eyesight. Cycles are very light.
Progesterone levels are higher than estrogen levels.
You must absolutely avoid sugar and anything containing it. Also avoid red meat, cold cuts, salt, cheese and alcohol. Eat potassium rich foods such as bananas, fresh fruits and vegetables. Consult with your doctor or naturopath if symptoms persist.
Supplements:
B complex vitamin taken daily and B6 vitamin taken the last 14 days of the cycle
Calcium and Magnesium - make sure to take a chelated or citrate form of calcium, not calcium carbonate. Take magnesium chloride or a chelated form. Take magnesium with calcium, not alone. Calcium 1,500 mg daily, Magnesium 1,000 mg daily
Potassium
See also depression self help guide
Return from 4 Types of PMS to Women's Health 

Return from 4 Types of PMS to Home Page