Causes of depression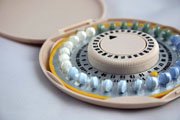 According to Dr. Kelly Brogan, Not a single study has proven that depression comes from a chemical imbalance in the brain.
One cause is inflammation, due to stress or a poor diet. You can meet the body with a set of very powerful, elegant tools that put everything in balance.
Blood sugar imbalance, can cause, fogginess, insomnia, an ADHD diagnosis, anxiety, or flatness, and can  be resolved with a balanced diet.
Some very common medications (birth control, pain killers, acid blockers, antibiotics, etc) have untold psychiatric side effects.
Acid blockers have well documented results of B12 deficiency, which can cause catastrophic depression and dementia. 
The birth control pill, victimizes women. It is pro inflammatory, induces nutrient depletion and leads to psychiatric prescribing.
A recent million person study over 13 years showed that teens who are prescribed the birth control pill have an 80% increase of chance of being prescribed an anti depressant!! I think that this is outrageous, and it is not even in the mainstream media!